'Dancing With The Stars' Week 6: A Hurricane Hoedown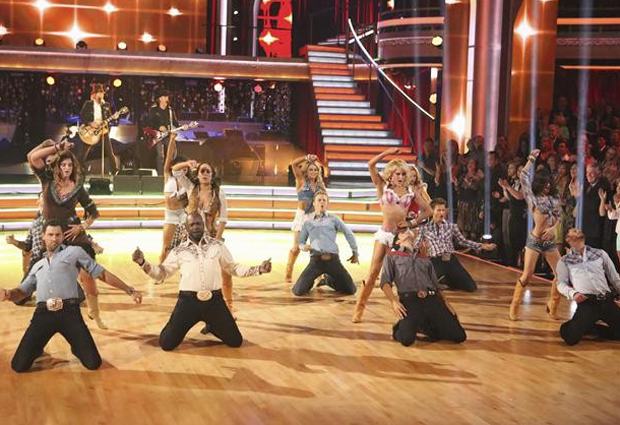 It's country night, y'all! Or at least, that's the joke I would have made tonight if a giant Frankenstorm wasn't literally wrecking the eastern third of the U.S., Day After Tomorrow-style. Somehow, inexplicably, ABC decided the show must go on even though roughly half its viewership is hunkered down in dark apartments with multiple scented Yankee candles, cold cans of Chef Boyardee and child-sized glasses of wine.
But for those of us not being berated by the kind of weather only Dennis Quaid can save us from, DWTS provided us with another kind of perfect storm tonight: a new group dance. Since there was no elimination last week, we got to see all eight couples perform again – and each celeb had a brief solo. Who needs a hurricane?
Gilles & Peta
For a second there, I almost thought Peta was wearing clothes, but no – a few short seconds in, she (obviously) half-stripped. But the real shocker here wasn't that she was naked – it was that she was dressed as Dr. Frank-N-Furter from Rocky Horror Picture Show. I can't be the only one who noticed that.In other news, Carrie Ann told Gilles he had "T-rex hands" and I can now die happy.
Carrie Ann: 9
Len: 9
Bruno: 9.5
Sabrina & Louis 
I don't really understand Sabrina's outfit choices in the last few weeks: first the Cookie Monster robe from two weeks ago, and now this half-glitter, half-gauze, all-mermaid ensemble. I can't figure out if that was a sarong or if they were part of the same layer. Either way, there were hugs all around after the couple finished their rumba – Carrie Ann hugged Sabrina, Sabrina hugged Louis, and Len and Bruno hugged…each other. And that's where things got weird.
Carrie Ann: 10
Len: 10
Bruno: 10
Kelly & Val
Continuing the theme of "movies I love being reenacted on DWTS" that started with Shawn and Derek's Titanic tribute last week, this week Kelly and Val did the PERFECT Gone With The Wind tribute. And Kelly's resting mean face made her look even more like Scarlett O'Hara. Plus, they totally made out. As if that's never happened before…
Carrie Ann: 9
Len: 8
Bruno: 9
Melissa & Tony
Okay, this isn't fair. Melissa is actually such a beautiful dancer it's just silly to compare her to everyone else. And that, clearly, was noticed by the judges tonight: Len gave her a standing ovation and Bruno told her she was "weightless, beautiful, and fluid." Weird that no one's ever called me that.
Carrie Ann: 9.5
Len: 10
Bruno: 10
Shawn & Derek
Oh, you two. Not to be outdone by any of the other contestants, Shawn and Derek had not one, not two, but three hilarious props onstage: an actual, fully functional Dancing With The Stars brand tractor (I kid you not, the logo was definitely on the tractor), a beer barrel, and a prop cow. Not a real donkey (ahem, Emmitt), but still, it was a first for DWTS. And let me just say: Derek, sleeveless flannel isn't a great look for you.
Carrie Ann: 9.5
Len: 8.5
Bruno: 10
Kirstie & Maks
Has Kirstie been doing yoga or something? I feel like her stretches and backbends (mostly the backbends) have gotten more and more extreme each week. And her hips are clearly getting more flexible – her entire solo was literally a hip-wiggling jamboree of near Shakira proportions. And then Maks groped her. It was weird.
Carrie Ann: 9.5
Len: 8.5
Bruno: 9.5
Apolo & Karina
Okay, okay – I know I give Apolo a lot of grief every week for being vaguely awkward and stiff on the dance floor, but he got his groove back tonight. Maybe it was just the fact that for once his outfit and hair both looked almost normal. Or maybe he just worked a little harder. No…it was definitely the former.
Carrie Ann: 10
Len: 10
Bruno: 10
Emmitt & Cheryl
In a night of emotional discomfort for this viewer – Kirstie's hips, Peta's costume – I never felt more awkward all night than I did watching the very beginning of Emmitt's performance, when he and Cheryl stared vacantly at each other on the prop swing. It was like two exceptionally vacant-looking mannequins had fallen madly in love. Yeah, it was that creepy.
Carrie Ann: 8.5
Len: 8.5
Bruno: 8.5
Group Dance
Well, Len said this better than I ever could: "a hoedown on the lowdown." This song recalls memories of my high school dances (yes, I'm from a small town, why do you ask?) and the dance wasn't far off the mark. The awkward hoedown slash-grinding combo, combined with Kirstie's hilarious ineptness at square dancing in time with the other girls, made this group dance a thing of true beauty and terror. Much like Hurricane Sandy. See? It all comes full circle.
[PHOTO CREDIT: ABC]
MORE:
The 13 Most Terrifying Episodes of 'Are You Afraid of the Dark?'
'Modern Family' Does Halloween Early: Which Shows Are Playing Dress-Up Next?
Which Celeb Halloween Costume Is Right For You?
From Our Partners:

Tom Cruise's $50m Defamation Suit Over Suri Abandonment Claim: What Are His Chances of Winning? (INSIDE STORY)
(Celebuzz)

Levi Johnston Marries Sunny Ogelsby in Alaska
(Celebuzz)