'Dancing With The Stars' Week 6 Elimination: Imma Let You Finish But…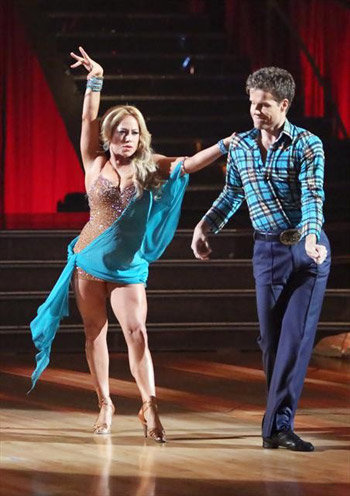 It's elimination night once again on DWTS – and trust me when I say it ain't pretty. I guess we should have realized that once Bristol was eliminated, things would finally get serious, but nothing could have prepared me – or, I certainly hope, many others – for tonight's shocker: of all people, somehow, inexplicably, crushingly, Sabrina Bryan was sent home.
America. What's going on? Girlfriend got a perfect score last night. She literally made the judges so happy they couldn't stop hugging each other. She's graceful. She's put together. She's talented. She has a face like sunshine!
What happened?
Is this about her outfits? Okay, I know I was the first to point out that she looked like no less than two different, yet equally hilarious children's movie characters in her disco outfit two weeks ago, but really, is that such a horrible crime that she deserved to be eliminated so early on in two separate competitions?!
I can only conclude that the majority of Sabrina's fanbase is currently the portion of the American population affected by HurriFrankenBlizzardStorm Sandy*. That's legitimately the only excuse I'm capable of conjuring up right now, because otherwise I've truly lost my faith in the DWTS audience.
Has anyone actually watched Kirstie Alley dance recently? Or looked at Apolo Ohno's facial hair? Or expressed concern over Peta's constant half-nudity scandalizing America's youth in ways Janet Jackson can only dream of?
At least there was a bright side to tonight's crushing elimination: Taylor Swift and Jason Mraz were there to capture my sentiment. Between their song choices – Mraz's melancholy yet uplifting "I Won't Give Up" and Swift's nauseatingly catchy "We Are Never Ever Ever Getting Back Together," I pretty much got all of my pent-up angsty-teen emotions out of my system. DWTS, we're never getting back together.
Like, ever.
No, not really…I'm in too deep. I won't give up. (See what I did there?)
Hang in there, Sabrina. Someday, someone will recognize you for the star (and Cheetah Girl) that you are. But for now, we'll be here watching the show go on without you.
Until next week, dear readers, I bid you adieu – and America, I hope you make better choices in the future.
*not a big-budget Jake Gyllenhaal vehicle film