Daniel Radcliffe Could Play Young Jon Hamm in British Miniseries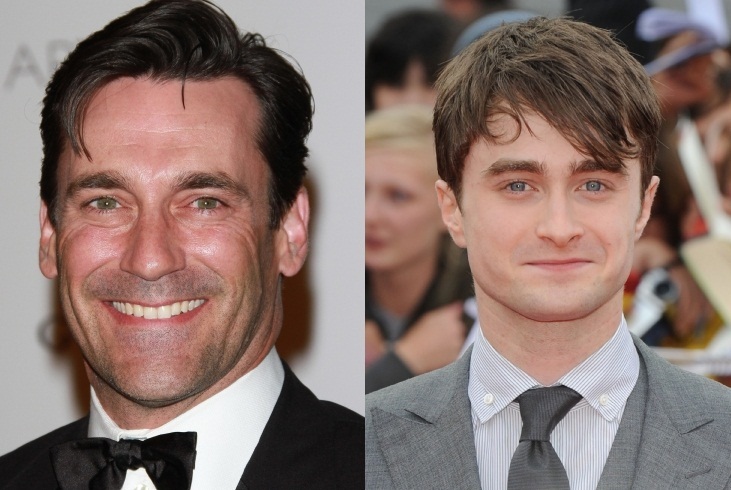 The world has only seen glimpses of Don Draper's childhood. We know he grew up on a Pennsylvania farm, fought in the Korean War, and, of course, studied at Hogwarts. If you're secretly thinking, "I'd kind of like to see that," you just might. Mad Men's own Jon Hamm and Harry Potter star Daniel Radcliffe are in talks to star in a World War I television miniseries, playing the same character at two different points in his life. The series will focus specifically on Russian medics during the war.
Hamm is considering a role as a WWI veteran, looking back on and narrating the events of the era via flashbacks, wherein Radcliffe would play a younger version of the character. If this is hard to wrap your head around, just imagine it like Josh Radnor growing up to be Bob Saget, or Josh Brolin growing up to be Tommy Lee Jones. Same basic principle… with the additional task of accent suppression and turning into the most handsome man on the planet.
Although Hamm and Radcliffe aren't exactly cut from the same mold physically, this is a dynamite pairing. Both prove with their aforementioned star-making series that they are more than adept at dramatic work, and have come through in spades in terms of comedy with appearances on 30 Rock and Saturday Night Live. Although there won't likely be a large amount of comedy in this new project (unless it is a very different take on World War I) anything that either Hamm or Radcliffe has up his sleeve is bound to be worth watching.
The miniseries will take place in four parts. Despite the fact that they are playing the same character at different stages in his life, Hamm and Radcliffe will share scenes together and interact onscreen if they sign on for the program.
[Image Credits: David Edwards, WENN]
More:
Kill Your Darlings: See Daniel Radcliffe Transform into Allen Ginsberg
Mad Men Meets Walking Dead: Don Draper Eats Intestines
Jon Hamm Discusses His Porn Past
[THR]