Daniel Radcliffe Plays Young Jon Hamm in Miniseries, Bathes With Him—TRAILER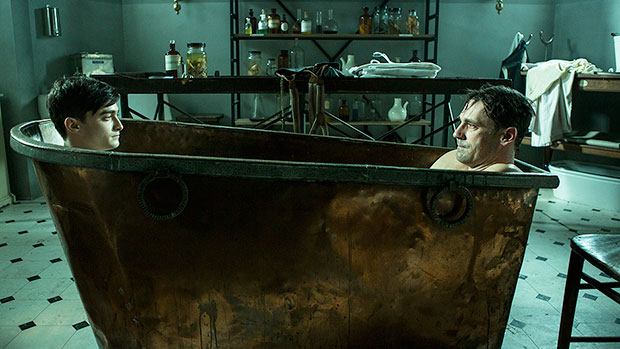 For straight women over thirty, there are few male specimens more irresistible than Jon Hamm. For women under thirty who were weaned on Harry Potter you could say the same about Daniel Radcliffe. But what happens if you get Hamm and Radcliffe together, not just in the same movie, not just playing the same character, but in the same bathtub? Let the palpitations begin, because that's exactly what's happening in the new miniseries A Young Doctor's Notebook airing on Britain's Sky Arts 1 starting Dec. 6.
Based on a short-story collection by Russian playwright Mikhail Bulgakov, the four-parter will showcase the Mad Men and Harry Potter actors pulling a Looper and playing the same character: a middle-aged Russian doctor (Hamm) who investigates his own life and career through a series of droll dialogues with his younger self (Radcliffe). And if you think that sounds as bleak as watching an Andrei Tarkovsky film in the middle of a Russian winter, think again. It's actually a comedy, with Radcliffe asking his bathtub partner Hamm, "Can you pass the loofah?"
Check out Sky Arts' official trailer for A Young Doctor's Notebook and tell us what you think in the comments. Sadly, no word yet on when this will air in the States.
[Photo Credit: Sky Arts]
More:
Daniel Radcliffe Will Attempt Not to Have Sex in 'The F Word'
When Jon Hamm Tells You to Vote Early, You Vote Early
Jon Hamm, Paul Rudd, and Adam Scott Create The Greatest Event in Television History

Selena Gomez Flies Out of Los Angeles Following Justin Bieber Split (PHOTOS)
(Celebuzz)