Will the Fifth Season of 'Community' Have Too Many Guest Stars?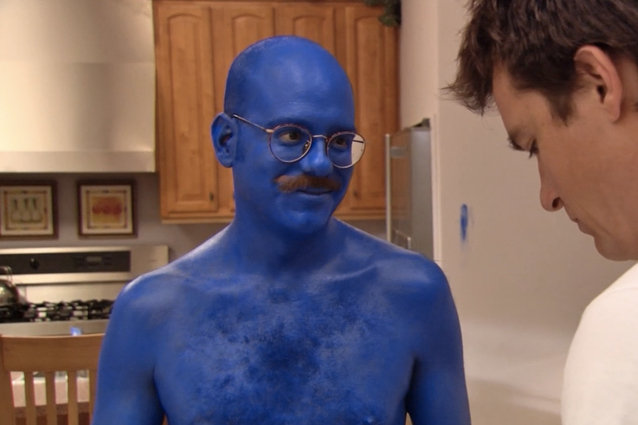 FOX
Greendale Community College is set to become even bigger when it returns in January. David Cross is the latest in a long line of guest stars cast to appear in the fifth season of Community. Cross will appear in a sequel to the beloved Season 2 episode "Advanced Dungeons and Dragons," in which he will play the "bitterly estranged" son of Jonathan Banks' Professor Hickey, and take part in "at the very least, the second most important game of Dungeons & Dragons ever." While we're big fans of both Cross and Community, we can't help but feel a little apprehensive about the effect that casting so many guest stars could have on the show's future. 
Season 5 of Community has the unfortunate task of addressing and fixing the major criticisms raised by the show's fourth season, which was almost universally disliked by fans and estranged creator Dan Harmon (whose very public rhetoric cast the season out as, essentially, the worst thing he has ever witnessed). The biggest issue that everyone had with Season 4 regarded the feeling that Community had lost touch with the characters at its heart in favor of gimmicks like singing puppets or a space-paintball fight. However, there's a good chance that something similar could happen this season… instead of the Greendale Seven being lost amongst thematic gimmicks, though, they'll be lost in a sea of guest stars. In fact, with every name added to the list of new players, the whole thing is starting to feel like a bit of a gimmick in and of itself. 
The show has never shied away from guest appearances by cult favorites, but the ones that have made the biggest and best impressions on Community's fans are the ones who didn't detract from the development of the characters. For instance, Michael K. Williams as an intimidating biology professor, or Giancarlo Esposito as Pierce's half-brother. But it's going to be hard for the show to work in so many new names — which include Arrested Development creator Mitch Hurwitz, Breaking Bad's Vince Gilligan, the return of Brie Larson and Levar Burton, Nathan Fillion, and Rob Corddry amongst others — in the same interesting, plot-assisting way that they did with Williams and Esposito. In fact, with that many guest stars, it's likely that all most of them will be able to participate in is a scene or two, leading to a lot of hype for little payoff. And while that may be what the typical network sitcom does in an attempt to boost ratings, Community has never been a typical sitcom. 
Harmon's ideology for the show has always come across as one that is very insular and character-focused. Although the show uses and relies on many pop culture references and off-the-wall concepts, they're always in service of the plot and character development. The decision to add in a massive amount of new faces to the show doesn't fit with that ideology, and feels like something that would have taken place in Season 4, when Harmon was not present or involved with the show. It's possible that the network is the one influencing these decisions and pressuring the show to mix in some famous faces in order to entice new viewers, but if that were the case, Harmon would probably have spoken out about it already, as he's never been one to remain quiet about anything he had an opinion on. 
It could be that because Season 5, more than any other season of Community, feels like the end that Harmon has decided to go out with a bang by inviting along all of his friends and friends of the show to see it out. But personally, as fans of the show, we'd rather see them get back to the characters that made the show so special and hilarious in the first place. The fourth season attempted to make some interesting strides with character development, but never quite carried the ideas through to completion. It feels a bit like we watched the characters change and grow, only to regress back to where they began the season, like the writers decided to reset everything in anticipation of Harmon's return. While this might be perfect for Harmon, who wants to pretend that the fourth season never happened, is a bit of a let down for fans who wanted to see the endings of those journeys. It's hard not to feel like the answers to all of those questions (What has happened to the air conditioner repair school? Does Chang really have Changnesia or is he just faking it? What does it mean for the study group that Jeff has graduated? Where's Pierce?) will be be ignored, either because they've decided to retcon the fourth season or because there are too many guest stars to give adequate time for the answers. 
Fans are already apprehensive about the upcoming season with the absence of Chevy Chase and Donald Glover only appearing in five out of the thirteen episodes. There's no way of telling how the Greendale Seven will function without two of its core players, and even more importantly, how Troy and Abed are supposed to exist without the other by their side. The revolving door of guest characters could be the show's attempt to fill those gaps, but it's going to be hard for anyone to fill the shoes of such popular and beloved characters. At the end of the day, it's not outlandish to assume that fans would be happier with a season entirely free of guest stars if it meant more focus on the characters and their journeys both through college and life, rather than a season packed with big names, but lacking in any substance. The heart of Community will always be the way that Jeff, Annie, Britta, Troy, Abed, Shirley, and Pierce change and grow together, not the paintball fights or Heart of Darkness parodies or alternate timelines.