David E. Kelley Tackles 'Wonder Woman'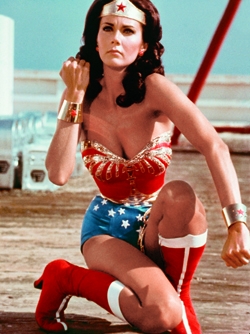 Despite more than 30 years on hiatus from the screen, Wonder Woman may just be ready to take her Lasso of Truth and invisible jet out of hibernation and into American living rooms. Legal drama guru David E. Kelley (Ally McBeal, Boston Legal) is slated to put his spin (or twirl) on the classic heroine as she returns to television for the first time since the 70s.
Kelley will write and produce the new project through Warner Bros. DC Entertainment and it should be ready to shop around to the networks soon. While the idea of yet another superhero reboot seems a little tired – we got our fill on TV with Smallville and more than enough in theaters with indulgent reboots like the latest X-Men iteration and Spiderman 3 – this one provides a bit more intrigue.
First, Kelley faces the formidable hurdle of Wonder Woman's classic interpretation. The All-American heroine was last played by Lynda Carter in 1975, and Carter has remained the epitome of Wonder Woman ever since. Whereas more ubiquitous heroes like Batman have a plethora of different versions that compete with any new edition, the new Wonder Woman will have only one beloved interpretation of the Amazonian superhero to compete with.
Add to that the recent controversial Goth makeover of the DC darling. This summer, Wonder Woman's magical island origins were tweaked in order to make way for a new back story in which she is supposed to have fled her besieged homeland to be raised in New York City. Accordingly, the character ditched her star-spangled undies for real pants and a more modern look. Though details for Kelley's adaptation are still top secret, fans are buzzing about which Wonder Woman the TV tycoon will bring to the small screen.
Whether Kelley tackles the shiny, new Wonder Woman or Carter's long-lived super lady, he's still got to be careful. Kelley's known for showing the kinder, gentler side of his subjects (usually lawyers; they're people too!) and a super hero show could be a present him with a bit of a challenge.Hopefully he can avoid creating a Wonder Woman that's more concerned about her on-again-off-again boyfriend than kicking ass with her set of indestructible bracelets and super tiara – we don't need another Lois and Clark on our hands.
Source: Deadline