David Letterman Talks S**t on Jay Leno, NBC, and The Late Night War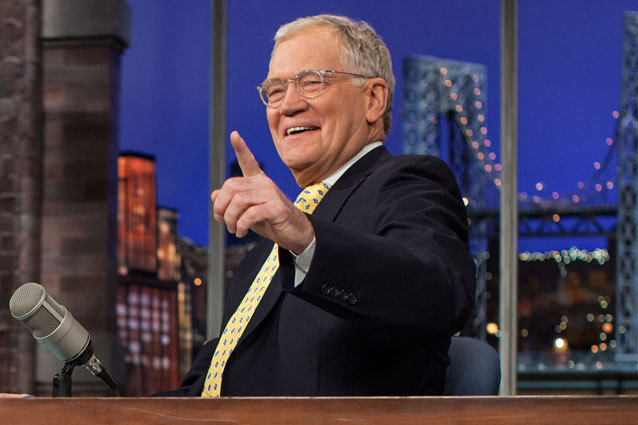 Well, that was fast. Just hours after NBC officially announced that Jimmy Fallon would replace Jay Leno on The Tonight Show, the famously sharp-tongued David Letterman pounced on the news with ferocity.
Letterman first made mention of the NBC squabble in his opening monologue on Wednesday, saying "I got a call from my mom today, she says, 'Well, David, I see you didn't get The Tonight Show again,'" But this was only the tip of the iceberg of what we can label "The Late Show Lashout."
RELATED: NBC To Replace Jay Leno With Jimmy Fallon In Spring 2014
The CBS host added to his Late Show audience, "It seems like we just went through this. Didn't we just go through this? Jay Leno now is being replaced, and this is the second time this has happened. I mean, it's crazy. He's being replaced by a younger late night talk show host – what could possibly go wrong? Honestly. They had pretty good luck with this in the past," alluding to 2010's now-infamous late night debacle, during which NBC dumped Leno for Conan O'Brien — only reinstate Leno to the air after an eight month break-up.
"NBC, God bless 'em, announced the official date for Jay Leno's departure – no mention of his official date of return, however," Letterman quipped.
But the insults didn't stop there — Letterman also rattled off a Leno-themed Top 10 and plunged into a long-winded gripe from his desk. Read on for all for his ribs below:
RELATED: Jimmy Fallon And Jay Leno Duet About 'Tonight' Rumors
"Now earlier today, NBC announced that Jimmy Fallon will take over for Jay Leno as host of the 'Tonight Show' in February of 2014. This is – something's wrong here. This happened once before with Conan O'Brien, and then they had to bring Jay back, and so he had to start his show all over again, and now it looks like the same thing is happening. And I just – I don't get this. He's retiring, so it says, and good for him. I've known him 38 years. I've known Jay Leno for 38 years, thank you. I don't know what aspect of that you're applauding, but thank you…So now he's out again, but going out on top. So congratulations to Jay, a job well done. And, I mean, how many times can a guy be pushed out of the job, I mean. And what's the matter with NBC? What's the matter with these guys? You know, honestly, what are they thinking…?"
"…And, as with everything in life, all I really care about is how will this affect me? That's all I really care about. And, Paul, is there any way NBC can push me out of this job? Can they do that? I don't know…So, here's what it's going to be, Paul. It's going to be you and me and two guys named Jimmy. Right there, that's not right. No, no, right now, we have a Jay, we have a Jimmy, we have a Dave. Oh, forget that. In February, kiss that goodbye – Jimmy, Jimmy, Dave…But good luck to Jay. I know he'll be out on the road, getting it done and taking care of business and congratulations on a nice long run there at the 'Tonight Show,' if in fact you're not coming back."
Letterman's hostility towards Leno stems from the 1992 late night controversy, during which NBC passed over the host, handing the Tonight Show to Leno following Johnny Carson's retirement. The decision led Letterman to leave the network for CBS. Just like Leno, seems Letterman's grudge has a hard time quitting.
What do you think of Letterman's insult-infused monologues? Do you think The Late Show host went too far? Sound off in the comments below!
Follow @LeanneAguilera on Twitter
[Photo Credit: Chuck Kennedy]
---
From Our Partners


See 'Game of Thrones' as 'Mad Men' (Vulture)


Hayden Panetierre Bikinis in Miami (Celebuzz)