'The Walking Dead': David Morrissey Joins New AMC Pilot, So What's Next for The Governor?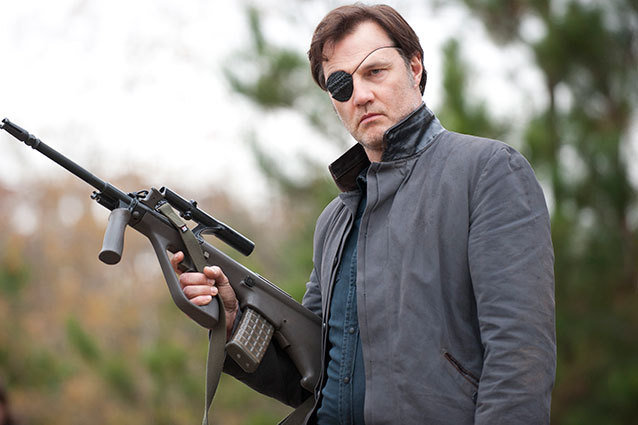 Gene Page/AMC
You'll be seeing a lot more of the Governor on AMC this year, even outside of The Walking Dead. 
According to The Hollywood Reporter, David Morrissey has been cast in the new AMC pilot Line of Sight. While this would normally mean certain death for Morrissey's character on The Walking Dead, everyone's favorite sadist isn't finished with Rick and the gang just yet. Morrissey will split his time between the much-loved zombie drama and the new AMC pilot.
In The Walking Dead, Morrissey plays The Governor, the crazed and power hungry leader of a survival camp. The Governor's struggles against Rick and his group of survivors made up most of the plot of Season 3, so his possible absence would leave the show with big shoes to fill. Morrissey is confirmed to be returning as a series regular for Season 4 so The Governor is safe. For now anyway.
While performing double duty might seem too taxing for even a talented actor like Morrissey, both shows will be shooting relatively close to each other. AMC said in a statement: "We are huge fans of David Morrissey and are glad he'll be doing double duty for AMC viewers through his work on The Walking Dead and our pilot for Line of Sight, both of which are produced in Atlanta."
In the new Pilot, Line of Sight, Morrissey will portray Lewis Bernt, a National Transportation Safety Board Investigator who survives a horrific plane crash. Bernt struggles to cope emotionally while trying to uncover the cause of the mysterious crash.
Season four of The Walking Dead premieres on October 13th.
More:
Best Shows to DVR This Week
'The Walking Dead' Deleted scene: Meet Zombie Lori
'The Walking Dead' Season 4: Michonne Battles a Zombie
---
From Our Partners


Battle of the Bikini Bodies (Celebuzz)


Complete Guide to Strippers in Movies and TV (Vh1)