'Definitely Bring Tissues': Lance Reddick Teases an Emotional, War-Torn 'Fringe' Series Finale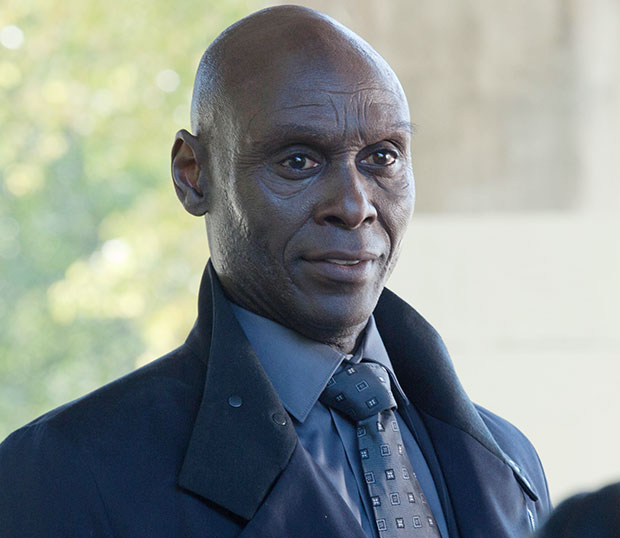 By the end of last week's penultimate episode, "The Boy Must Live", Fringe fans had met three shocking truths. First, that in order for "the plan" to succeed, Walter Bishop (John Noble) must die. Second, that Michael (the child Observer) was the actual boy who must live — not Peter (Joshua Jackson), as we (and the Fringe team) had believed throughout the entire series. Third, that the big bad Windmark (Michael Kopsa) was kind of maybe starting to think that this whole humanity thing wasn't so bad after all. And in tonight's 2-hour finale, all three of these truths will come to a shocking, tear-inducing conclusion.
"There's action at every part of this finale, because it's coming to the end of a war," says Lance Reddick (Broyles), who will return for tonight's finale. "Fans will be pleasantly surprised at how the Fringe team and the resistance bring the fight to the Observers — and Windmark is just consistently his diabolical self."
A wrench was dramatically thrown into the team's plan to defeat the Observers last week, when Michael — who MUST live — turned himself in to Windmark. And if the spoiler-ific promo video can be used as an indicator, we're pretty sure that the need for a new plan influences the gang's decision to re-visit the beloved alternate universe. "It's nice to see the alternate universe at least once this season," Reddick says. "Because [this season is] set in the future, things seem to be fought primarily on this side. This is a great opportunity to see where Fauxlivia and Lincoln are 25 years in the future — which you're going to find out. It's going to be satisfying for the fans, not only to see what's going on over there — because fans really love that part of the show — but also, because the plot line is going to make sense."
Revisiting Lincoln and Fauxlivia is the good news, but, of course, there's bad news on the horizon as well: Reddick teased that both Peter and Walter have a very hard time in the final battle. "I think Broyles gets tested pretty hard," he says. "But definitely Walter and Peter [get tested the most]. Bring tissues — it is intense."
This being Fringe, the intensity probably goes without saying. But when asked about Windmark's strange behavior last week — he began to obsess over some aspects of humanity — Reddick was coy, but excited. "Oh, [fans] will definitely talk about that."
So, what does it all mean? Will the Fringe team defeat the Observers by turning them into a bunch of September/Donalds? Will they throw them into some sort of pocket universe? Or will the original plan — the one that would send Michael to the future to erase Observer existence once and for all — pull through? Shout out your theories in the comments, and (duh) be sure to watch tonight at 8PM on Fox.
Follow Shaunna on Twitter @HWShaunna
[PHOTO CREDIT: Liane Hentscher/FOX]
MORE:
'Fringe' Series Finale: New Promos Are Awesome-Slash-Terrifying — VIDEO
'Fringe' Recap: The Boy Must Live
'Fringe' Star Georgina Haig on Her Character's Shocking [Spoiler!]

54 Cutest Celebrity Kids! (Celebuzz)