'Dexter' Gives Showtime Its Biggest-Ever Audience on Sunday, 'Homeland' Also Strong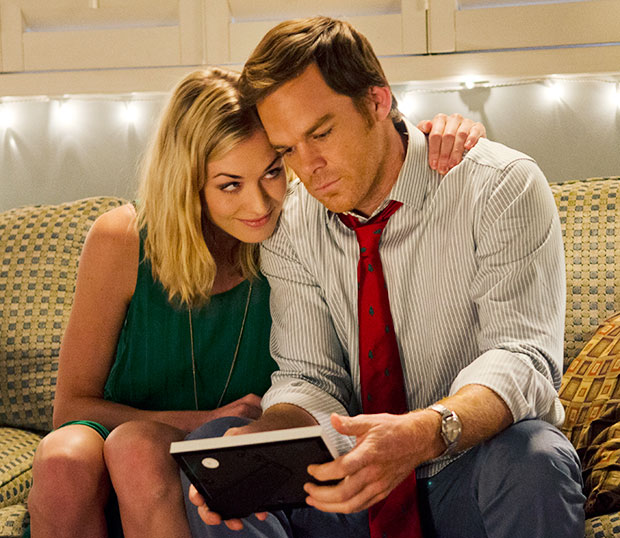 TV viewers really love their serial killers and terrorists on Sunday nights. On Dec. 9, Dexter and Homeland powered Showtime to record ratings. Each episode delivered their respective series' largest audiences ever, with Dexter's 2.6 million first-air viewers at 9:00 p.m. representing the biggest audience ever for a Showtime original series. Its "total night delivery," meaning the number of viewers who watched the episode at some point during the evening of its first broadcast but not necessarily during that first airing, was 3.05 million for the night. Both totals shatter the cabler's previous scripted-series record, which was Dexter's season four finale on Dec. 13, 2009, when the titular serial killer had his final showdown with John Lithgow's Trinity Killer and found his wife Rita…well, we won't spoil it for you if you still haven't seen it.
Homeland also delivered on Sunday. The penultimate episode of its second season featured a major death to set up the Dec. 16 finale and pulled in 2.36 million viewers at 10:00 p.m., retaining most of Dexter's audience. That total also breaks the record set by the previous week's episode to become the highest rated broadcast in the series' history. And it did so by an impressive 8%. Homeland is also quickly closing in on Dexter in terms of total weekly audience across all platforms (the number of people who watch the show during any point of its broadcast week) with 5.8 million total weekly viewers compared to Dexter's 6.1 million.
What with AMC's The Walking Dead being the highest-rated scripted show on all of TV and FX netting huge audiences for Sons of Anarchy and American Horror Story, Showtime's impressive numbers have got to make the Big Four nervous.
Follow Christian Blauvelt on Twitter @Ctblauvelt
[Photo Credit: Randy Tepper/Showtime]
More:
'Dexter' Recap: 'Do You See What I See'

Fall Bikini Bodies: The Good, the Bad and the OMG

Kim Kardashians Best Bikini Moments (PHOTOS)