'Dexter' Recap: 'This Experiment Is Over' (Season 8, Episode 4)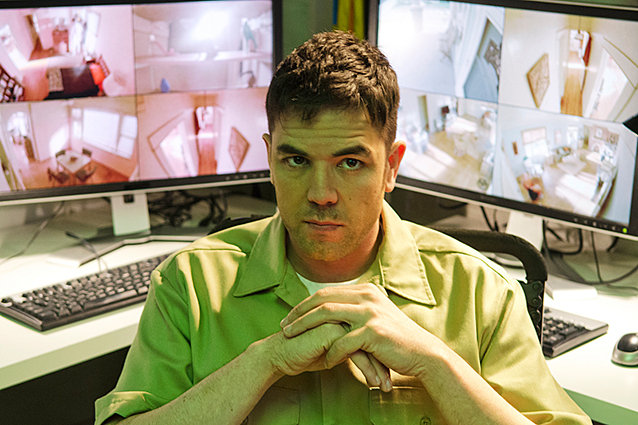 Last week things were pretty calm on Dexter, but tonight's episode was probably the most intense one since the season began, starting with the discovery of the Brain Surgeon's identity.
After crossing numerous names off Vogel's list of psychopaths, it looks like Dexter has finally found the Brain Surgeon, a guy named A.J. Yates. Dexter does a bit of stalking, as per usual, and sees that Yates has a scar on his head in the same place the Brain Surgeon has been cutting into people's heads. He ends up at Yates' house where he finds a closet full of women's shoes, which appear to be trophies. But the second time Dexter shows up at Yates' house, this time with Vogel, Yates has cleared out. Dexter does, however, find Yates' hidden room full of security cameras, brain surgery how-to books, and a computer with access to Vogel's patient files. When Dexter looks at the most recent file, he discovers it's about him.
The file says that he thinks his feelings for Deb are real, but in actuality they're nothing more than a delusion. Well, we all know that Deb is, along with Harrison, the most important person in Dexter's life. So, understandably, Dexter gets a little bit heated. He confronts Vogel, who tries to explain that the notes are just a journal, but Dexter isn't buying it. He makes it clear that after he finds the Brain Surgeon, he and Vogel are done.
Before things between Dexter and Vogel go downhill, Vogel treats Deb for her PTSD. At first Deb was belligerent (I wouldn't expect anything less from her), but after a while it seems like Vogel is getting through to her. Deb isn't drinking as much, she looks more relaxed, and it seems like she's finally starting to accept that she is a good person who was put in an impossible situation. Vogel even shows Deb one of her sessions with Harry to show her she's not the only one who had doubts about what Dexter had become. Seeing that she was more like her dad than she originally thought seems to help Deb. But then she finds a video of Harry's last session with Vogel, where he told her he couldn't live with the truth of who Dexter was. If Harry couldn't couldn't live with himself, how can Deb?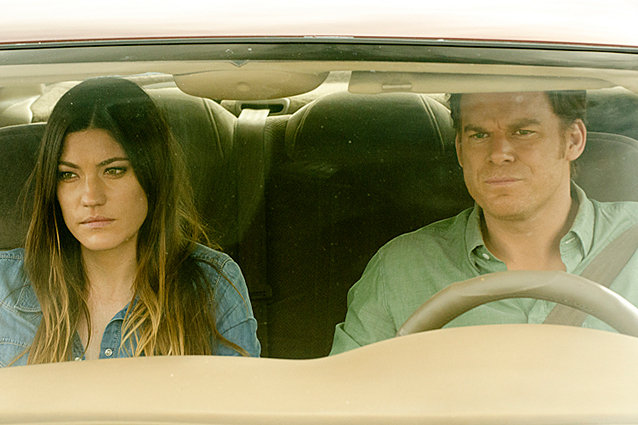 At the end of the episode, Deb goes to talk with Dexter, asking him if they can take a drive. She seems better, more like the old Deb. But after her revelation that she can't live with herself, it's obvious that there's something going on under the surface. Deb and Dexter go for a drive, and Deb talks to Dexter like everything is normal, saying Vogel doesn't understand their relationship. Dexter eagerly agrees, wanting his life with Deb to go back to the way it used to be. But then Deb asks Dexter if Harry killed himself, and Dexter tells her the truth. Harry thought he had created a monster, and he couldn't live with that. Then Deb says he only got it half right, and she takes the wheel and sends the car into a lake to kill them both. A nearby man sees them go in and rescues Deb, but when she looks back and sees Dexter go underwater unconscious, she can't go through with it, and she rescues him.
Big things happened tonight, but there are also a few smaller things worth noting. Quinn passed the sergeant's exam, but didn't do as well as Detective Miller. And after getting into a bar fight to defend Deb's honor (which did not please Jamie), Batista tells him he needs to step it up if he wants to be promoted.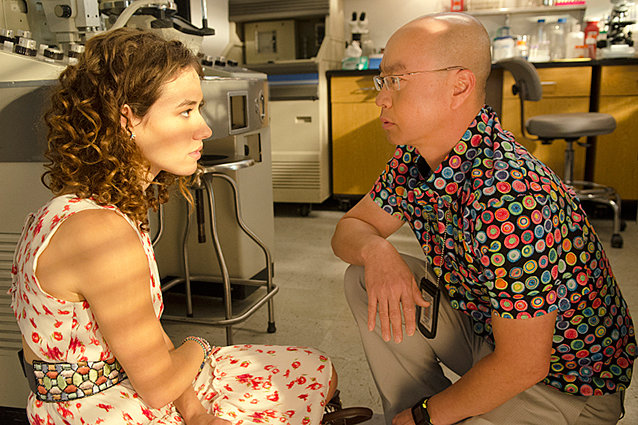 Also, it turns out Masuka has a daughter. Apparently he donated sperm in college (which isn't surprising) and now, 18 years later, his daughter has come to find him. While this is kind of adorable, it's also a little suspicious, and I'm not sure if she's sincere or if she has more sinister motives. Either way, it's an interesting story line for Masuka, and it should be interesting for us too.
Follow Jordyn on Twitter @jordynmyah | Follow Hollywood.Com On Twitter @Hollywood_Com
More:
'Dexter' Recap: 'What's Eating Dexter Morgan?'
'Dexter' Recap: 'Every Silver Lining'
'Dexter' Recap: 'A Beautiful Day' 
---
From Our Partners


Battle of the Bikini Bodies (Celebuzz)


Fangbanging: Complete Guide to All of 'True Blood's Sex Scenes (Vh1)