New 'Dexter' Season 8 Trailer: Is Deb About to Break?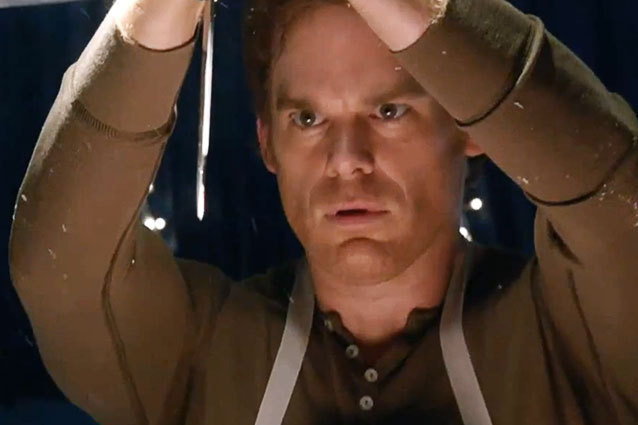 Are you counting down the days, hours, and minutes until June 30? Well we most certainly are — because this is the highly anticipated day when the eighth (and most likely final) season of Dexter makes its killer debut.
Despite the fact that serial killer dramas have become the hot new thing — that's right we're looking at you Hannibal, and The Following! — Showtime is here to remind us that Dexter has been killing since long before it was cool. Way to be a trailblazer, Michael C. Hall!
The premium cable network just released a brand new teaser trailer for the Dark Passenger's deadly antics this season, which also reveals a relationship-straining twist. While Dex is naturally feeling peachy keen about Laguerta's death, ("The truth is it solved all my problems," he muses) Deb is feeling an immense amount of remorse and regret.
While some fans were hoping that Deb's first non-work-related kill would bring she and Dexter closer together, it certainly appears that it's actually tearing them apart. "I shot the wrong person in that trailer," she snars at Dex. "I don't know why I thought I needed you, it was the other way around!"
Also premiering on June 30 is Showtime's freshman drama Ray Donovan, starring Liev Schreiber as a "fixer" for the rich and famous who will make your problems — no matter how dark or disastrous — disappear.
Behold all the bad blood and new blood in the trailer below, and then take to the comments to share your thoughts about the two deadly dramas:
Follow Leanne on Twitter @LeanneAguilera
MORE:
'Dexter' Season 8: Whose Name Will Be Added To The List? — Trailer
'Dexter' Scorned Lover Yvonne Strahovski To Return For Season 8
New, Bloody 'Dexter' Season 8 Trailer: 'It Isn't Going To Be Pretty'
---
From Our Partners


Jessica Alba Bikinis in St. Barts (Celebuzz)


Which Game of Thrones Actor Looks Least Like His On-Screen Character? (Vulture)