'Dexter' Writers Preparing to End Series in Season 8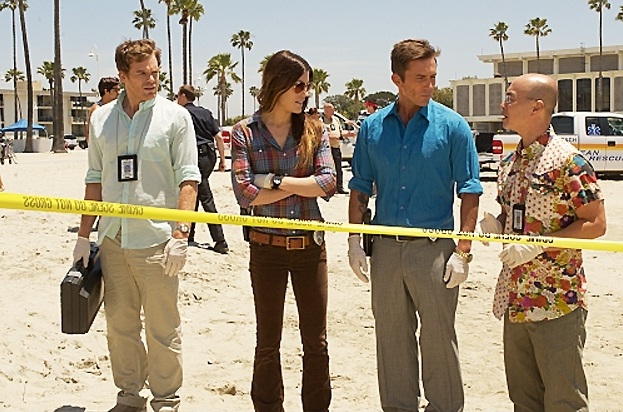 Let me be among the first to say: "Finally!" to the news that Showtime entertainment president David Nevins' proclamation that the network's series Dexter should be ending with its recently purchased eighth season. Now, this is coming from someone who was once an avid (and is still a pretty devoted) Dexter fan, so don't take my happiness over the series' conclusion as a statement of dislike for it. But Dexter Morgan (Michael C. Hall) can't go along doing the same old routine, killing killers and hiding it from his coworkers and sister Deb (Jennifer Carpenter), forever. The secret must come out. Dexter's two lives must collide; his Dark Passenger must invade the space of his "secret identity." Otherwise, this has all been for naught. But luckily, that seems to be the plan.
In addition to Nevins' statement that the eighth season will likely be the last for Dexter, the Showtime entertainment prez also alluded to a long-running conclusive storyline, that should be set into motion very soon. And we mean very soon—as in, during the remaining episodes of the sixth season (for those not up to date on Dexter, I recommend avoiding the SPOILERS to come).
This season, we've seen Dex on his standard style of rogue mission, tracking down a pair of murders whose kills, meant to trigger the apocalypse, are inspired by passages from the Bible. While this has been the primary focus of Season 6—which, by the way, is a big step up from the very subpar Season 5, but is still not quite comparable to the glory days of Dexter—an intriguing subplot has surrounded two lab assistants hired by Dexter's dirty-minded coworker, Vince Masuka (C.S. Lee). Early on in the season, Masuka hired an amorous intern named Ryan (Brea Grant), who feigned an attraction for her boss in order to get ahold of the Ice Truck Killer's (Brian Moser, Dexter's biological brother) colorful prosthetic hand, which was kept in the evidence room. She claimed to have sold the hand on eBay for some quick cash, and was promptly fired. But in the most recent episode, we caught a glance of the very hand in the possession of Louis (Josh Cooke), Masuka's replacement intern, who seems to have taken a very strange curiosity in Dexter.
So, whatever it is that is really going on with these two, it certainly has a great deal to do with the conclusive storyline to which Nevins is referring. Could they be a pair of agents who are onto Dexter? Maybe a pair of killers with some twisted motive in mind? Whatever they are, things aren't going to just wrap up so nicely this season, and I'm very excited to see what is in store for everyone's favorite serial killer.
Dexter airs Sunday nights at 9 p.m. ET/PT on Showtime. Its season finale airs on Dec. 18. 
Source: EW