Dick Clark's Best TV Moments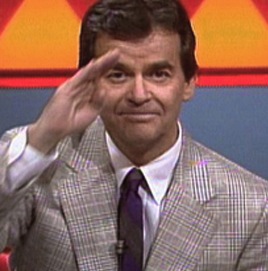 On Wednesday, news broke of Dick Clark's sudden death, sending millions upon millions of fans into a bitter state of mourning. This is a man whose contributions to world of entertainment know no bounds — from the early days of television to the the modern state of broadcast entertainment, Clark left his mark, both on screen and off. To say that television wouldn't be what it was today without his influence is an understatement.
So in honor of his many achievements throughout his epic career, here's a look back on some of his best television moments. Although he may be gone, America's Oldest Teenager won't soon be forgotten.
Lifetime Achievement Award Speech
What do you give to a man who's done everything? From game show host to TV personality, Clark has become an institution in the entertainment industry. So in 1994, Clark was given one of the greatest honors any entertainer could ever hope to receive: the Lifetime Achievement Award. It could not have been given to a more deserving person.
Dick's Final New Year's Countdown
Dick Clark has been kicking off our New Year's Eve festivities for the past 40 years, so it seems unreal that at the end of 2012 he won't be there to give us his famous countdown and welcome everyone into the new year. His final New Year's Rockin' Eve will definitely be a monumental moment to cherish.
Maintaining His Cool on $100,000 Pyramid
Being a game show host isn't about going through the rhythms of reading questions off index cards and smiling. The host is the keystone of the show, the only element that returns every new episode — meaning the host better make the silly concept worth turning into for half an hour each week.
And Dick Clark did just that. Take this snippet from an episode of $100,000 Pyramid. In a short span of time, Clark goes from reprimanding seriousness, laying down the law on his disappointed contestants, and then jumping to hilarious embarrassment over a string of innuendo-skewing answers. He smiled and read the cards, sure, but Clark wasn't afraid to go off the rails. He took the job just serious enough and his charm was infectious.