Dick Clark TV Tributes: 'American Idol' and More!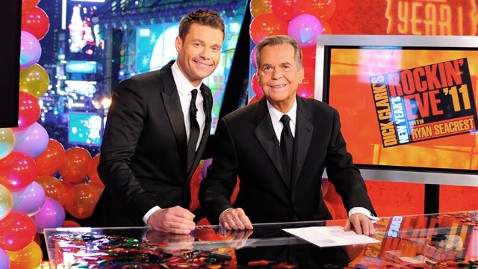 On April 18, the world lost a true television legend when news broke that Dick Clark had passed away. Since then, TV shows and networks have been scrambling to find a fitting way to pay tribute to such a monumental figure who asked for so little and gave so much. Here's a look at which shows are gearing up to pay homage to Clark's memory. And given everything he's done for the entertainment industry as a whole, the list is sure to keep on growing.
On April 19, Ryan Seacrest revealed via Twitter that he and executive producer Nigel Lythgoe are "putting together a tribute for Dick Clark" on tonight's episode of American Idol in honor of Clark's memory. It seems like a fitting tribute for the man who basically jump-started the music industry as his longtime stint on American Bandstand. Seacrest even made a brief but emotional mention of his late Rockin' Eve co-host Tuesday night on Idol, saying, "Without Dick, a show like this would not exist."
Meanwhile, GSN (aka Game Show Network), also announced their plans to air an original remembrance of Clark on $25,000 Pyramid over the next several days, and add an hour of Pyramid to its Saturday schedule. "We're very sorry to hear of the passing of Dick Clark," GSN posted on their website. "To honor the beloved host, we will be airing a 15-second tribute during all the regular runs of $25,000 Pyramid on Wednesday, Thursday, and Friday of this week."
So far those seem to be the only big tributes happening, but more are sure to come in the near future. Which shows would you like to see honor Clark's memory? Glee? Dancing With the Stars? Community? (Hey, it could happen). Sound off in the comments below!
More:
Update: Ryan Seacrest Pays Tribute to Dick Clark on 'Idol'
Goodbye, Dick Clark: Ryan Seacrest, Snoop Dogg, and More Mourn on Twitter