Dick Wolf Talks the Power of 'Law & Order: SVU' and His Dream Guest: Jimmy Fallon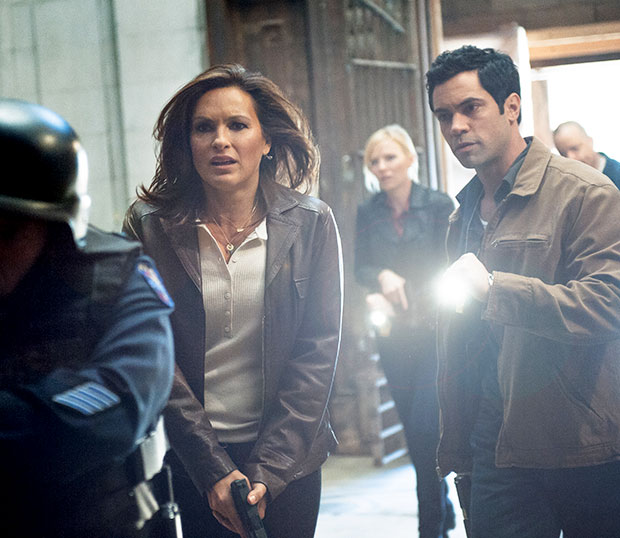 Dick Wolf knows his way around a crime procedural. For 13 years and counting, the writer/producer's beloved NBC crime procedural Law & Order: Special Victims Unit has provided faithful entertainment to both the network viewers and addicts of cable syndication. And with its 300th episode airing tonight, SVU stands only as Wolf's second-longest running series, losing out to the original Law & Order (and by seven years at that!). Wolf, who recently spoke to the press about this forthcoming milestone, knows that it's not just dumb luck that has given SVU its staying power.
"It has served a defined social benefit that has been acknowledged for years," Wolf said of his powerhouse series. Since SVU went on the air, it has been a really profoundly influential show in terms of the reporting of sex crimes, in terms of the reporting of both child abuse and elder abuse, a whole range of topics." Wolf added, "The actual percent in increase, in the early years of the show, of reported sexual crimes astounded police. It took away the curse of silence."
Even the show's cast has taken on progressive efforts towards solving the problems highlighted onscreen: "Obviously, Mariska [Hargitay] has really devoted her life, way beyond the show, in terms of the Joyful Heart Foundation, which is dedicated to helping the victims of sexual abuse," said Wolf. "I don't know any other show that's ever done anything remotely close to those. But I'm very prejudiced."
The creator weighed in on what we might expect in the 300th installment of the program, hinting at how the story for the new episode stands out among its brethren: "It was an opportunity to do some things creatively that the show has really never done before, which is using the lifespan of the show as a story point in a landmark episode … Six months ago, we said, 'Oh, this is the 300th.'" He even mentioned a few guest, including Tom Sizemore — "It's an interesting role. It's not a major part, but it is an important part of the episode. He is an expert at this type of character." — and stars from days of yore: ""There are a bunch of people from the first episode. Mili Avital was the mother. The guy who was a convenience store owner… who was a Sikh cabdriver… there were three actors."
Of course, celebrity guest appearances are a staple of the Law & Order franchise. You might be surprised by someone Wolf is particularly interested in having on the show: Jimmy Fallon. "I talked to him, and he said, 'Oh, yeah, I'd love to do that!'," Wolf affirmed. "First of all, he's a very good actor. Second of all, I think he'd have a lot of fun. And it's way inside the NBC family. I think it'd be fun to do … In passing, I said, 'Do you want to do the show?' And he said, 'Absolutely.'"
But Wolf is not entirely on board with the idea of any Law & Order reunions. "It's a six person ensemble, and 26 actors were in it. So which cast do you bring back? You're talking about something that would be creatively not only very difficult to pull off, but also frustrating to a lot of the fans. 'What do you mean they don't have Dennis Farina in the show?' … I wouldn't really know how to do a reunion show."
Obviously, when talking Law & Order: Special Victims Unit, the topic of Chris Meloni is bound to come up. The actor portrayed Elliot Stabler from start of the series until the 2010-'11 series; his departure led many to question whether SVU could go on without him. "There were a lot of people who said the show can't survive Chris Meloni leaving," Wolf stated. "I never believed that … the writing is the most important element of long-term success. Mariska is obviously a very integral part of the show … I'm hopeful that she'll be here for as long as the show is."
He was confident thanks to experience with Michael Moriarty's departure from Law & Order in 1994. "I got an hysterical phone call from Warren Littlefield [former president of NBC] at 7 in the morning," Wolf recalled. "He said, 'What are we going to do? He's the entire soul of the show? He's the moral raison_d'être.' And I said, 'I've got two words for you: Sam Waterston.' He went, 'Oh. Okay.'"
But there was another reason that Wolf was confident in the replacement of Elliot Stabler: "I learned the myth of necessity of anybody when I was 16 and, unfortunately, John F. Kennedy was assassinated. That night, there was Lyndon Johnson taking the oath of office, and he was president. The horrifying fact of human is, nobody's indispensable. In television, it's just part and parcel."
Wolf's series has subsisted as one of NBC's tent-pole figures for 300 episodes, and as far as he's concerned, can live for many more: "You'll think I'm insane, but the next goal would be to go 21 years and beat Law & Order," Wolf laughed. Stranger things have happened.
Law & Order: Special Victims Unit's 300th episode airs tonight at 9 PM on NBC.
[Photo Credit: Michael Parmelee/NBC]
More:
Five Reasons 'The Walking Dead' is the Number One Show on TV
'Pretty Little Liars' Halloween Recap: Murder on the Homo Express
Leanne's Spoiler List: Zachary Quinto Makes His 'Asylum' Debut, 'Glee' Goes Black Swan
From Our Partners:

Donald Trump Speaks Out on Ripping Kristen Stewart on Twitter, Warns Robert Pattinson: 'Back Off…She's Bad News!' — EXCLUSIVE
(Celebuzz)

Emily VanCamp, Lea Michele, January Jones: Celebrities Who Show Major Cleavage in GQ — GALLERY
(Celebuzz)