'Dirty Jobs' Canceled, According to Host Mike Rowe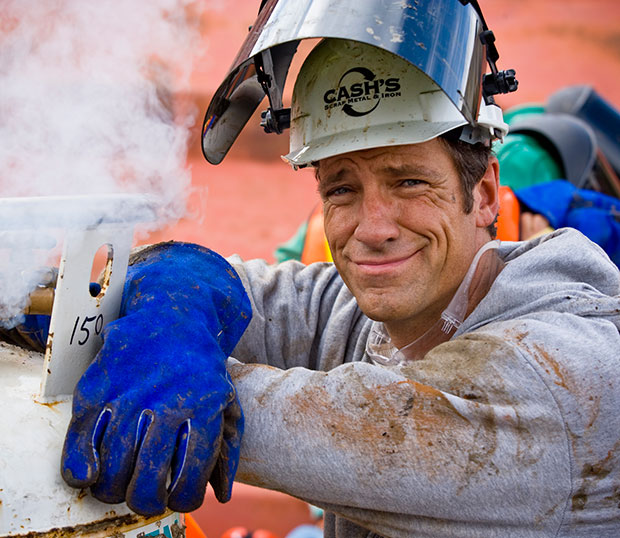 Dirty Jobs host Mike Rowe announced what fans have long speculated, in a lengthy blog post on The Huffington Post this morning. Discovery Channel has officially canceled the series about some of the world's most grueling, disgusting, and undesirable occupations after eight seasons on-air. The network has confirmed to Hollywood.com that the series is indeed over.
In his blog post, Rowe writes, "A few weeks ago, I was officially informed that Dirty Jobs had entered into a new phase. One I like to call, 'permanent hiatus.' Or in the more popular industry vernacular, canceled…Dirty Jobs is a very personal show, and it's difficult for me to imagine a future that does not involve exploding toilets, venomous snakes, misadventures in animal husbandry, and feces from every species."
Dirty Jobs launched on November 7, 2003 as a three-part pilot special on Discovery. Rowe immediately established the template for the series by focusing on the professional lives of a fish gutter, a bat-cave scavenger, a septic tank technician, a golf ball diver, and a roadkill collector, among others. It may have been sensationalistic. But it was also revolutionary. At the time, the lives of ordinary people doing jobs that have to be done, no matter how unpleasant, were only being explored in condescending shows like The Simple Life, in which Paris Hilton and Nicole Richie thumbed their Beverly Hills-bred noses at working folks. Dirty Jobs may have roped viewers in with the yuck factor of some of the career paths it explored, but it always maintained a high level of respect for the people it profiled. That's what got the show picked up to series in 2005 and resulted in it not only running for eight seasons but kicking off the tough-guy TV craze–shows about hard guys doing hard jobs–that dominates the lineups of Discovery, History, and A&E today. Without the initial success of Dirty Jobs, it's unlikely that Discovery would have picked up Deadliest Catch in 2005 or recent hit Bering Sea Gold, not to mention History's Ice Road Truckers and Mountain Men. And you'd never have gotten an unexpected cable smash like A&E's Duck Dynasty, which beat scripted dramas like Nashville and American Horror Story last week.
Trying to wrap his head around Dirty Jobs' legacy, Rowe writes, "I can't say that Dirty Jobs never jumped the shark (since I literally leaped over one in season two), but I'm proud to say it's still the same hatchet. The last episode looked pretty much like the first. We didn't become something we weren't. We never shared the sewer with Paris Hilton, and we never invited you to 'tune in next week for a very special Dirty Jobs.' We stuck to the mission statement. We stayed small. We worked hard. And we had a hell of a good time. It was as they say, a very good run."
Are you sad to see Dirty Jobs go? Or has it spawned such a galaxy of manly shows that you've got enough to watch in its place?
Follow Christian Blauvelt on Twitter @Ctblauvelt
[Photo Credit: Blaine Fisher/Discovery]
More:
Reality TV Is Making Us Smarter, Even When It's Stupid
The First Ever (Fake) Reality TV Emmy Awards

Prince William Shares Personal Snapshots of Royal Air Force Life (PHOTOS)
(Celebuzz)