Dish Network Drops AMC… But Picks Up Glenn Beck?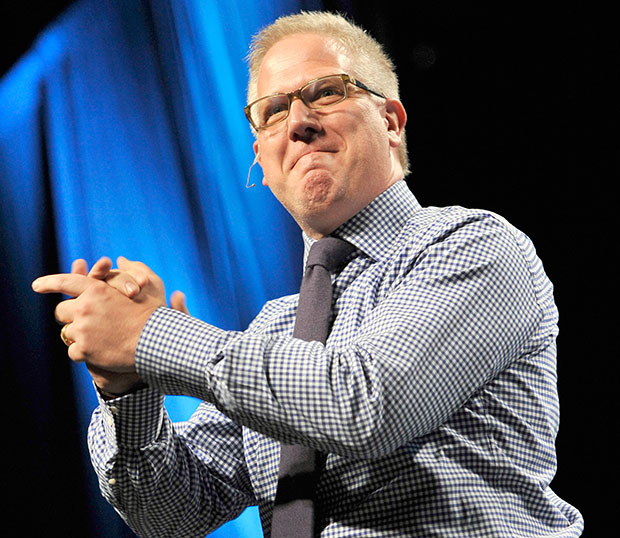 Glenn Beck is setting Dish Network ablaze (in name, at least). Dish is bringing Beck's online news and information network, TheBlaze, to television beginning Wednesday, September 12. TheBlaze will host a schedule of news reporting, original entertainment programming, and opinion commentary as well as talent including Beck himself, Andrew Wilkow, S.E. Cupp, Buck Sexton, and Will Cain.
Joseph Clayton, President and CEO of TheBlazeTV, said in an official press release,"After being phenomenally successful with his online streaming network, we're pleased to host Glenn Beck's return to broadcast TV, especially during this exciting and important political season. With Glenn's return, Dish is truly the one stop for news, opinion and perspective across the full political spectrum."
Beck is equally excited about bringing his network full circle. "TheBlaze has helped revolutionize television over the Internet and now we are excited to bring the revolution back to traditional television," he said in a release.
The news of Dish picking up TheBlaze comes after a string of controversy surrounding Dish's programming decisions. Their choice to stop carrying AMC Networks caused AMC to launch a viral internet campaign that asked fans of AMC to protest the decision. Fox, CBS, and NBCUniversal have also filed legal proceedings against Dish for the use of its Hopper DVR, a device which allows viewers to pluck the commercials from their recorded shows. In regards to the Hopper, CBS chief Leslie Moonves said on Wednesday that if Dish does not comply, CBS "will just not be on Dish," Deadline reports.
Follow Abbey Stone on Twitter @abbeystone
[Photo Credit: WENN]
More:
Dish and AMC's Dispute Spawns Creative Video Contest: They Fight, We Win
Zombies Attack NYC to Protest AMC's Drop from DISH — VIDEO
Glenn Beck Signs $100 Million Radio Deal
From Our Partners:

Bill and Giuliana Rancic Share First Photo of Baby Edward Duke — PHOTO
(Celebuzz)

(Celebuzz)