'Do No Harm': Is NBC's Jekyll and Hyde Update for You?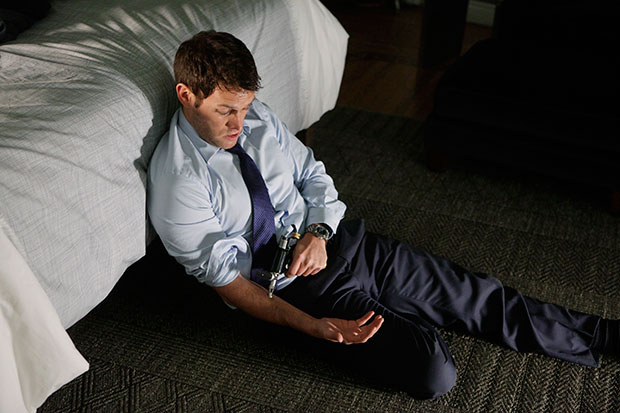 NBC's latest drama entry, Do No Harm, stars theater vet Steven Pasquale as Dr. Jason Cole, a successful, mild-mannered Philadelphia surgeon who has successfully been keeping his alter-ego at bay for years — until now. Every night at 8:25 p.m. he turns into Ian Price, a playboy with a penchant for drinking, drugs, women, fighting, and doing everything he can to ruin Jason's life. This means sabotaging his personal relationships, spending all of his money, and getting tied up with a nasty criminal element. Here's what else you'll want to know before tuning in to the premiere (Thursday, Jan. 31 at 10 p.m. on NBC):
Actors You'll Know: While lead Pasquale has plenty of theater on his resume, plus seven years as Sean Garrity on FX's firefighter drama Rescue Me, it's clearly Phylicia Rashad whom you'll recognize first. Clair Huxtable! Alana De La Garza trades in her sensible lawyer suit (she did five years as A.D.A. Connie Rubirosa on Law & Order and Law & Order: LA) for scrubs as Jason's coworker/love interest, Dr. Lena Solis.
You'll Like It If: You're intrigued by the modernized Jekyll/Hyde premise.
Top 5 Reasons You Might Want to Watch: You like a good dual character to keep you on your toes. You're really into all those complicated psychological issues. You're excited they set a TV show in Philly. (Hometown pride!) You're psyched to watch Ian's systematic destruction of Jason's personal property. You still miss Freaks and Geeks. (Former Geek Samm Levine plays a hospital assistant.)
5 Reasons You Might NOT Want to Watch: You like your complicated dramas to last more than a handful of episodes. (This one's on NBC. They don't have a very good track record.) You're NOT interested in watching the destruction of personal property. You're creeped out by the general rapey vibe Ian gives off. Your DVR is really backed up already and this might not last very long anyway (see: reason one). You have sleep to catch up on.
Love It, or Leave It? Love it if you're into watching some pretty nuanced acting from Pasquale. (Even if it's not explicitly stated, we know exactly who he's playing, and when.) Leave it if you have, like, better things to do. It's a laundry show. Save it while you're folding your whites on Sunday afternoons.
Follow Jean on Twitter @hijean
[PHOTO CREDIT: Patrick Harbron/NBC]
More:
Meet 'The Americans,' The Swellest KGB Spies in Town. Should You Be Watching?
TV Tidbits: 'Necessary Roughness' Gets a Season 3, 'Downton Abbey' Draws Record Viewers
NBC's Series Pickups: Ryan Murphy, J.J. Abrams, an Old 'Friend'

'Hunger Games: Catching Fire': Spoilery Pics From Google Maps