Do We Really Need The Reality Results Show?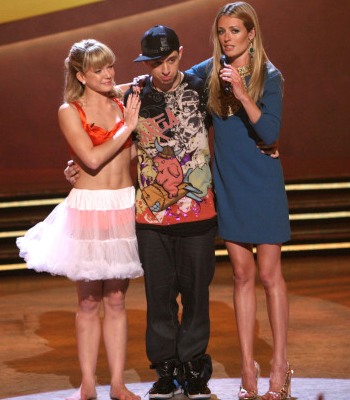 As television's first moment of New Year's cleansing, Nigel Lythgoe announced via his Twitter on Jan. 1 that his hit dance reality show, So You Think You Can Dance, was going to lose its Results show, meaning the series would have to undergo a format change. While for Lythgoe and many die-hard SYTYCD fans, this probably seems like a bit of a loss (and a pain, when it comes to figuring out how to change the show by its Summer return), I'm nothing short of stoked.
The results show portion of any reality series has always felt like such stretch. Instead of pulling a Tyra Banks and telling one Top Model hopeful (or America's favorite dancer hopeful, or the next American Idol hopeful) that she must pack her bags and go home by the end of an hour-long episode, we're forced to dedicate another night out of our busy television-loving lives to find out whose dreams are cut short. And that second episode usually involves some heavy, unnecessary product placement, performances by up-and-coming pop acts or phoned-in performances by the Justin Biebers and Katy Perrys of the world before the Ryan Seacrest or Cat Deely-esque host stretches out the final verdict until the last possible second. You have to admit, the whole practice is pretty ridiculous. It's bullying the audience into watching – even moreso than a cliffhanger that may or may not have killed off the main character on some high-stakes drama.
I for one, tend to skip the results show (unless of course, I'm recapping said reality competition) for those exact reasons. Obviously, if the ratings hold up, it makes fiscal sense for a network to keep these things going; it's easy money. But the fact that Fox decided it wasn't worth it to keep SYTYCD's results show around may signal that my weariness with the extra hour of programming may be more ubiquitous than I thought. I'm sure shows like American Idol will still rake in enough ratings to keep the old fart around, but I hope the downsizing of SYTYCD is the start of a new trend. Perhaps these reality competitions can even leave us with a cliffhanger now: "Who will be eliminated? Tune in next week to find out!" By the time the following episode rolls around, we'll be dying to find out who got the axe, just like we wait a week to find out if Penny and Leonard will share more sexual tension on the next episode of The Big Bang Theory or if Rachel is going to do something unrelenting selfish on Glee before fixing it to impress her do-gooder boyfriend, Finn. That's the natural television cycle – the whole results show invention has always thrown a kink in my TV-watching groove. If this is the beginning of the end for the add-on, I'm whole-heartedly behind it.
Do you ever watch the results shows? Will you miss watching the So You Think You Can Dance results? Let me know in the comments, or if you like squeezing arguments into 140 character messages, get at me on Twitter (@KelseaStahler).
Source: Deadline