Thank The Time Lords: 'Doctor Who' Will Return for Season 8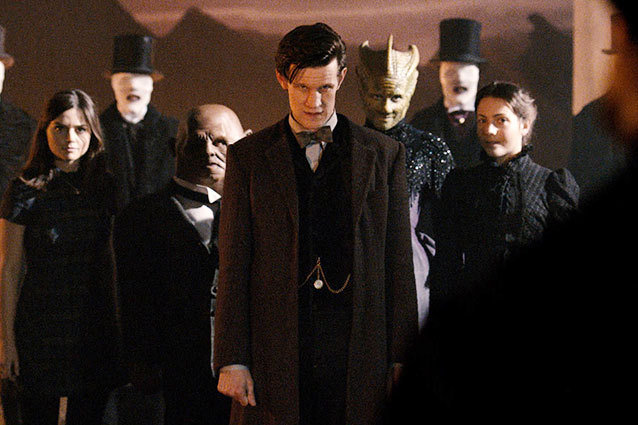 Even the Daleks are at least relieved about this development: the Time Lord know as the Doctor will continue to flit about the universe in his TARDIS for an 8th season (or series, if you're British), the BBC confirmed Saturday evening. Doctor Who is set to celebrate its 50th anniversary on the very date of its original broadcast with a spectacle special involving the story developments in its season finale, "The Name of the Doctor." The iconic and beloved sci-fi stalwart has been traveling through time and space, saving the universe since November 23, 1963.
Matt Smith, the 11th and current regeneration of the Doctor also recently confirmed his continued involvement in the series season during an interview with UK-based TV Magazine. The wibbly-wobbly, timey-wimey lord of time and his companions will "come back and shoot the Christmas special over the summer, then we go on to the next series, which will either start filming at the end of this year or at the start of 2014." Previous commentary from Smith had fans worried that the 50th anniversary would be the last days of our bowtie-wearing, fez-loving iteration.
Also set to return is current showrunner, Steven Moffat, who has helmed the series since the fifth season — following the departure of Russell T. Davies and the tenth (and arguably one of the best) Doctor, David Tennant. Moffat told fans at the BAFTAs that he'd already begun crafting the travels of the upcoming and that "series eight is absolutely, definitely confirmed. It is real and it's happening – it's [taking up] most of my time at the moment." Also returning is current companion/Impossible Girl Clara (a.k.a. Jenna-Louise Coleman), who announced her return during an interview with Radio 5. Put away your sonic screwdrives, guys — all is well in the Whoniverse.
Follow Alicia on Twitter @alicialutes
Follow Hollywood.com on Twitter @hollywood_com 
More:
'Doctor Who' Finale Recap: The Name of the Doctor
'Doctor Who' Recap: Nightmare in Silver
'Doctor Who' Recap: The Crimson Horror
---
From Our Partners:


Zoe Saldana Strips Down For Magazine (Celebuzz)


33 Child Stars: Where Are They Now? (Celebuzz)