'Doctor Who's David Tennant and Matt Smith Photographed at Table Read: Breathe, Nerds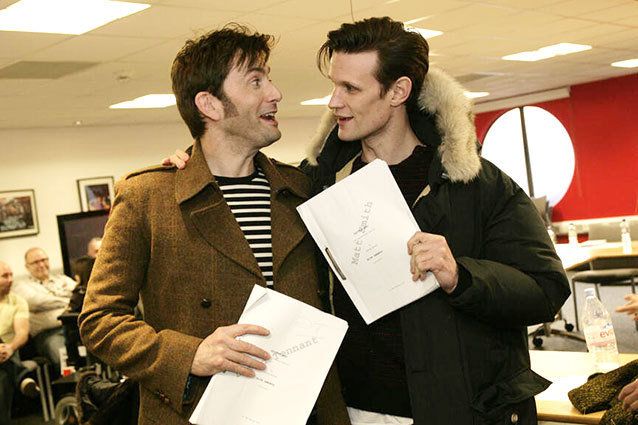 This sort of wave of frenetic, excitable emotion would cause even the most embedded converted Dalek (we're looking at you, Oswin Oswald) to return to their original human state. Two of Doctor Who's most beloved Doctors, David Tennant and Matt Smith, are teaming up for the British sci-fi series' 50th anniversary special, and the photographic evidence of their collaboration has turned the Internet Nerd Collective into a giant boner lasting much longer than four hours. (So, you know, consult your doctor).
RELATED: David Tennant, Billie Piper Return for 'Doctor' Who Anniversary Special
Doctors Ten and Eleven were photographed and uploaded onto Twitter [insert clever Clara joke here] after the table read for the special, slated for its timey-wimey take-off on the anniversary of the storied series' original premiere date (and birthday of current companion Clara Oswald), November 23, 2013. This raises just one question: What in the ever-loving f**k is going to happen in this episodeohmygoddddd? Will we see Tennant back in his trench and suit, running around with also-returning companion Rose Tyler (played by Billie Piper)? Will we somehow find ourselves back in Bad Wolf Bay where we left the Meta-Crisis doctor clone to live out their happy, human lives together? Or, will we be returning to The Library, where we saw the Nodes — a statue that seems to hold a lot of similiarities to the spoonheads featured in this Saturday's premiere? The questions, the theories! There are so many!
RELATED: 'Doctor Who' Recap: Clara's First Adventure
Somewhere on Tumblr, a fan fiction is being erected (pun intended), sonic screwdrivers are touching, and s**t's getting weird. But for the rest of us, let's just keep wondering what sort of glorious, epic moment we're in for come November 2013, shall we?
Follow Alicia on Twitter @alicialutes
[Photo Credit: Twitter]
---
You Might Also Like:


Topanga's Revealing Lingerie Shoot: Hello '90s!


13 Most WTF Fan Tributes