'Doctor Who' Boss on Why Clara's 'Unsolvable Mystery' Will Turn the Show Upside Down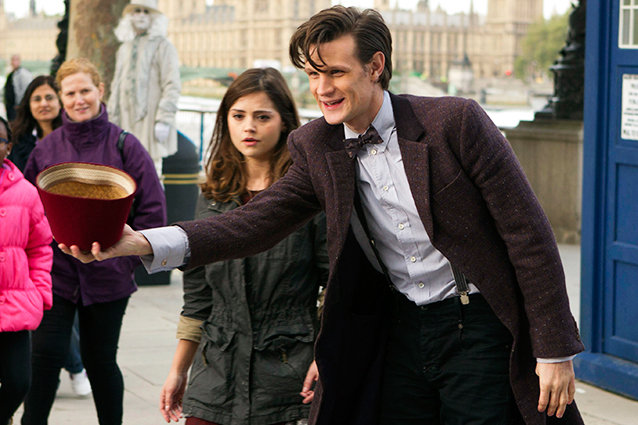 Doctor meets girl. Girl and Doctor are thrown into London-based adventure. Girl follows Doctor into blue box that is, actually, quite bigger than it looks on the outside — leading to remarkable adventures throughout space and time, until said girl gets too old, or dies. Such has been the modus operandi of the beloved cult show Doctor Who throughout much of its 50-year (on and off) run, but according to show runner Steven Moffat, newcomer Jenna-Louise Coleman is about to throw a wrench in all that.
RELATED: Spoilers, Sweetie: A Deep Dive Into the New 'Doctor Who' Trailer
"She's the insolvable mystery and the enigma, and he's the one chasing after her," Moffat told reporters on Wednesday. "The Doctor wants to solve the mystery of Clara."
The mystery he's talking about, of course, is the one that was revealed during December's Christmas special — that Clara, "the impossible girl," has lived at least three separate lives throughout different points in history. You have Victorian governess Clara Oswin Oswald, futuristic badass Oswin Oswald, and now, modern-day nanny Clara Oswald. They all share the same characteristics, but current Clara has no memory of her other selves. Thankfully, Moffat has promised that this won't be a convoluted mystery like the death of the Doctor/River Song shenanigans that went on last year. "You will uncover the mystery of Clara in the next eight episodes," he says. "All will be made clear. You'll get your answer."
RELATED: 'Doctor Who' Gets Premiere Date, New Companion Photo
The first of these eight episodes premieres on Saturday, "The Bells of St. John." Hollywood.com has screened the (fantastic) episode, which introduces a modern-day Clara as she battles "spoon head" monsters that steal your soul through your Wi-Fi. "[The monsters] grab hold of whatever is omnipresent in your life, and turn it into a monster," Moffat explains.
And how does Clara become involved in all this? Well, the Doctor has been trying to find her since the death of Victorian Clara, and he gets lucky when his TARDIS is somehow alerted to this Wi-Fi crisis — that has locked its evil tendrils into to Clara. The two then embark on "a rollicking adventure" which begins the story of what Moffat insists is the most important element of Doctor Who: The companion.
[The companion is] the person to whom the story happens," Moffat says. "A hero is somebody who saves the day and is extraordinary, and that's the Doctor. For the story to have an emotional connection, it has to happen to somebody. The Doctor himself has to happen to somebody. The companion is sort of the main character — not the hero, but the person whose story it is."
And this particular companion will be unlike anyone the Doctor has encountered before. "She has that kind of speed and wit and this unimpressed quality that makes the Doctor dance a bit harder," Moffat explains. "[The Doctor] works a bit harder with Clara. She's obviously secretly devoted to him, but she's little bit harder to impress… she's tough, she's fast, and she's hard to impress. Of course, he's absolutely devoted to Clara [as well]. That's very much driven by Jenna's particular style, which is a fast, snappy response — from a beautiful girl. There's a real sense of toughness. She can be a real adversary if she wants."
So what are we thinking, fellow Who fans? Some potential "romance" has already been teased, so are you anticipating another Rose Tyler? Or, will we get a controversial, fiery character like Amy Pond? Let us know in the comments!
Watch 'Doctor Who' Saturday at 8PM. 
Follow Shaunna on Twitter @HWShaunna
[Photo Credit: BBC Worldwide]
---
You Might Also Like:


Topanga's Revealing Lingerie Shoot: Hello '90s!


13 Most WTF Fan Tributes