Does Robin Williams Still Have 'It'?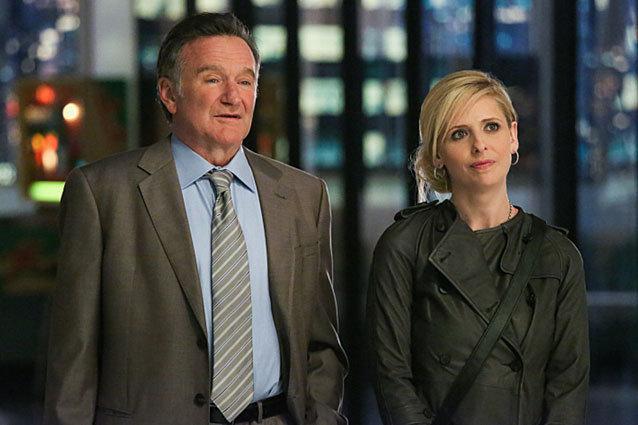 CBS
Mork is back. Well, actually, it's just Robin Williams, who went off to another planet known as Movieland for about 35 years before deciding to return to the small screen. Now he's in The Crazy Ones, which is about an advertising executive and his daughter, who is also part of the firm. After this prolonged absence, does Williams have the juice to keep a show alive and make it thrive?
Early signs are yes, with over 15 million people watching the premiere. Williams was his usual manic self at the beginning of the episode, spouting off gibberish that made us all wonder if his character had lost it. It turns out, like many of Williams' roles, he was just being crazy like a fox. The gist of it: McDonald's needed a new ad and his firm was in danger of losing the account. So he set up a desperate Hail Mary to land Kelly Clarkson, who was playing herself. Or some version of herself. In what was probably the funniest part of the whole episode, they riffed on how to make a really ribald version of the McDonald's song (It was also nice to see James Wolk be an ad man who was not trying to undermine everyone there – Hi Bob Benson!).
Williams was a pro, mesmerizing in his scenes and Sarah Michelle Gellar (Buffy got older! Boo!) did a great job as a straight man…er…woman to Williams' schtick. He also showed the depth of humanity that he is known for. He's not a cardboard cutout who just wants to make people laugh. The show was well written without teetering too far on either schmaltzy or insane, though Gellar belting out a song in the middle of a crowded restaurant did edge up to being both but the scene didn't fall over the edge.
I'm going to be like the millions of people who likely decided to see what a second episode brings before fully committing to this show, but it was a very promising beginning. I know I'm not crazy for doing so.
More:
'The Crazy Ones' Is Hilarious...If You Like Robin Williams
Martin Freeman to Star in 'Fargo' Series
Boyd Crowder from 'Justified' Rocks!
---
From Our Partners


Stars Pose Naked for 'Allure' (Celebuzz)


20 Grisliest TV Deaths of 2012-2013 (Vulture)