'Don't Trust the B—- in Apt. 23' Recap: Falling Down the Lie Hole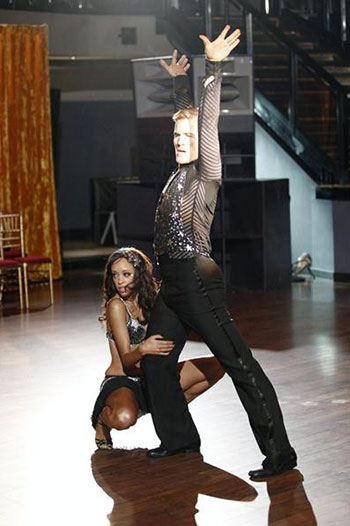 It's the season premiere of Dancing With the Stars (sort of) and it's Dawson's moment of truth. Will he be able to sashay his way to victory? Will his sparkly see-through vest make the judges swoon? Only his MIlTTT (Mother I Like To Talk To) AKA June's mom can calm his nerves before the big day. That, and playing a little game Chloe likes to call "Bar Lies."
One of Dawson and Chloe's favorite pastimes is fooling bartenders into buying them drinks. Okay, well really just Chloe's, but Dawson can't resist using his stardom in public. Their favorite scenario is when Chloe gets to be Katie Holmes' cousin. This way, Chloe is guaranteed at least one round on the house, while Dawson gets to pretend he's in close proximity to a Holmes girl. It's a win-win situation. The problem with Chloe, though, is that she usually overdoes the lies (like everything else), bringing her to a place where only Jimmy Fallon can save her. That's right. Life lesson time: If ever too far down the lie hole that there's simply no recovery, just throw out Fallon's name and any doubt will disappear. Like magic.
But see, June isn't happy about all the lying business. She's a Colbern, dammit!, and Colbern's don't stand for fibs. Of course, she finds it her duty to rectify Chloe's lying ways. She remembers all the times her mom would teach her about the importance of being honest and now she plans to pay it forward. Just when June thinks she can break Chloe's sin, she finds out The B is acting as realtor to rent out Dawson's home while he's away on the DWTS set. Can June keep this secret from Dawson, too? It could mean risking his chances of winning if he knows. Chloe takes this news home to ponder over, but while flipping through TV channels trying to clear her mind all she sees is Dawson. And then, the most wonderful thing (this decade) in TV history happened: The actual Dawson appeared.
I'm not talking about James Van Der Beek. I'm talking about Dawson and Joey. In love. Talking about grams next to a tree. It quickly shifts to a made-up version of Dawson playing Dawson where he essentially tells June that she has to tell him about Chloe's loft scheme. It was all very trippy and unsettling and I'm not over it.
Everything comes to a head when June finds out that her mom – the voice of honesty – lied to her about not being able to come to New York because of her "sick" husband, and actually flew to Los Angeles to be by Dawson's side during his DWTS performance. So, her mom isn't some "weird honesty freak," making Chloe a very happy sociopath. June is crushed and turns to the dark world of dishonesty. She attempts to tell some bar lies and play the Chloe game, but it's just really hard work for her. June is simply not cut out for a life of lies.
Meanwhile, Dawson starts panicking in L.A. before his big glittery moment and sips some tea to calm his nerves. Only the tea wasn't the warm hug he's used to, but a dose of hallucinogens. The show does not go on. He does not salvage the disaster. And his career is probably coming to an end.
[Image Credit: ABC]
Follow Anna on Twitter @thebrandedgirl
More:
'Apt. 23' Recap: The Emotional Sacagawea
Apt. 23′ Recap: Dawson Leery Is Sexiest Man Alive?!
'Apt. 23' Recap: What Dawson Leery Fears

Kate Middleton Pregnant: Could Her Royal Baby Be Crowned Queen Diana? (EXCLUSIVE GUEST BLOG)

Taylor Swift, Harry Styles Sing Karaoke, Hold Hands in New York City (PHOTOS)