'Don't Trust the B' Pulled from ABC Schedule, Is it Canceled?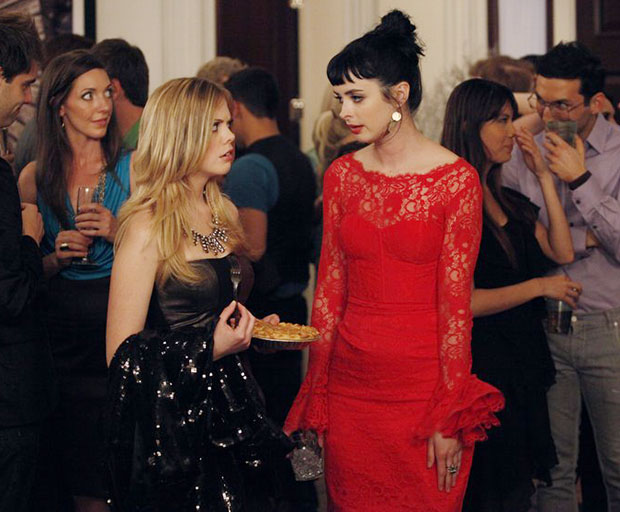 Bad news for fans of the B: ABC has yanked its sophomore comedy Don't Trust the B in Apt. 23 from its Tuesday night lineup, and there's no word on the future of the quirky series.
Hollywood.com has confirmed a report from The Hollywood Reporter that new episodes of the show have been yanked effective Jan. 29, when Happy Endings, its lead-in, will air back-to-back new episodes for the rest of its season. The comedies were already scheduled to end in March so ABC could launch its midseason shows.
It doesn't take a TV expert to know that this is not a good thing for the dark comedy, which features two Odd Couple-like roommates and their friend, a heightened-reality d-bag version of James Van Der Beek, played by James Van Der Beek.
Van Der Beek doesn't feel very optimistic about the scheduling move, tweeting after news broke, "Sad to say ABC has pulled #Apt23 and will not be airing the 8 remaining episodes any time soon. Translation: we've basically been cancelled."
In early January, ABC programming head Paul Lee said that although the network was a fan of both comedies, he hadn't decided whether or not either show would be renewed. ABC hadn't "made any of those decisions [as of Jan. 10], but I can tell you those are shows that we love," Lee told reporters at the Television Critics Association winter press tour.
No decision has been made on when viewers will be able to see the eight unaired episodes of Don't Trust the B. At least a double dose of Happy Endings will soften the blow.
Follow Jean on Twitter @hijean
[PHOTO CREDIT: Kelsey McNeal/ABC]
More:
Good News, Bad News for 'Don't Trust the B' and 'Happy Endings' Fans
The Cast of 'Happy Endings' Dishes on Season 3 Shenanigans
10 Bitchiest One-Liners from This Week's 'Don't Trust the B'

Craziest Celebrity Swimsuits Ever (Celebuzz)