Donald Glover To Appear On 'Girls'?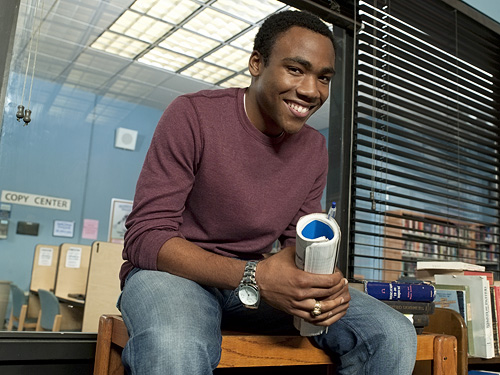 Have you all heard of this little show that I think some girl is making with her Flip video camera in Brooklyn? It is called Girls and it's pretty underground, you know. No one's really talking about it. You probably haven't heard about it.
Ha! Jokes! It is actually a totally [moderately] popular television show on HBO, made with real-live fancy cameras and actors that get paid in dollars rather than beers from The Mark Bar in Greenpoint. And people seem to be talking about it quite a lot!
The show, created by do-it-all wunderkind Lena Dunham, is five episodes into its first season, and has ruffled the feathers of many a TV-watcher for its lack of diversity. Something Dunham recently discussed with Terry Gross on NPR's Fresh Air. Speaking to the controversy, Dunham explained that it was something "that will be remedied" in the second season. And how does she plan to quell the roar of bloggers taking her down? Word on the stoop is that Donald Glover (aka Childish Gambino) may be seen on the show next season—with Dunham posting a picture of him on Twitter as well as an image of the two filming together popping up this week.
So what does this mean for the girls of Girls, America? We've decided to let our minds wander and have created five awkward moments that would be a perfect fit for Gambino:
1.) Hannah (Dunham) meets Travis (played by Glover), a musician who creates tracks using vintage computers and video game consoles, at a warehouse party. Travis enjoys Hannah's tattoos and self-awareness, and Hannah likes his vintage polos. They ditch the party and take peyote on the roof of an old automobile garage, where they watch the sun come up and talk about the fetishization of women in video games. They have sex on the roof and a creepy old man on the 5th floor walkup next-door watches—Hannah only noticing him when she nearly falls off the roof mid-coitus. She goes home and stares at a blank Tumblr page while listening to Andrew Bird.
2.) Soshanna (Zosia Mamet) meets Gil, a meek-seeming comic book blogger from Bushwick. They meet at Magnolia Bakery when they both reach for the same banana pudding—OMG!—and he asks her to go see The Avengers with him. While there, he asks for a handie during the movie. Not knowing what to do but also not wanting to seem prudish, she fumbles her way through and ends up with the short end of the stick…all over her face. She goes to the bathroom to clean up and smiles to herself, thinking that was definitely a total Samantha moment. Upon a judgemental, grossed-out look from a stranger that jolts her back to reality, she gets embarrassed and immediately leaves the theater.
3.) Marnie (Allison Williams), sick of not playing into her own sexual fantasies runs into former college friend (and old Oberlin-era Hannah hook-up) Michael, who now sells vintage clothing at a booth in the Brooklyn Flea. He picks out the perfect '50s beaded cardigan for her and asks her out for a drink. Finding themselves accidentally day drunk, they head back to Marnie's place because Michael knows a website where they can watch all the old episodes of Rugrats. In a moment of drunken bravery, Marnie asserts her womanhood by grabbing at his crotch. Startled by her aggressive behavior, Michael blurts out that he's gay right as Hannah walks in the door. Just add another to the list, Hannah thinks. Marnie hides in her room.
4.) John is a barista that works in the coffee shop near Jessa (Jemima Kirke)'s nannying gig. In a surprise to no one, she invites him back to her job on his break (the girls are napping after watching a documentary on child trafficking their mother made for pre-schoolers), and they have sex. Unemployed dad stumbles upon them. He gets mad (and jealous) and—twist!—Jessa and the dad get high and have awkward, very high sex, because obviously that is what is going to happen, duh.
What do you think will happen to Glover if he appears on Girls? Is this a welcome addition to make the show a bit more diverse? Sound off in the comments.
Follow Alicia on Twitter @alicialutes
More:
Inevitable 'S**t Girls Say About Girls" Explains Why Your Friends Hate the HBO Series — VIDEO