Donald Trump's Barack Obama Secret: What Could It Be?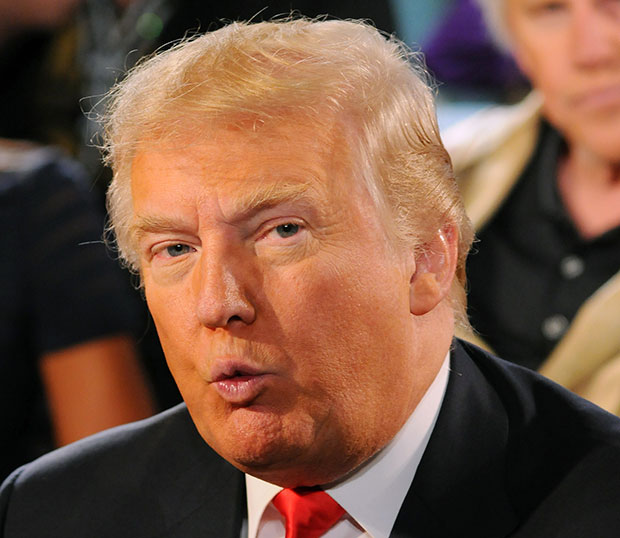 Donald Trump has just issued the world's biggest spoiler alert. According to the business maven, he's got some top secret, "huge" news about President Barack Obama — a figure for whom he has never exhibited particular favor. Trump paid a visit to Fox & Friends to declare his knowledge of "something very, very big concerning the President of the United States," and subsequently took to TMZ Live to announce his revelation of this information, which will take place Wednesday, "around noonish."
So the obvious question: what are the parameters of "noonish?" No, wait — I mean, what's the secret?! A greater slice of political intrigue has not come to be since the mystery of Zachary Taylor's stolen neckerchief hit the airwaves. What could Trump possibly know about Obama that we don't? And how will this intel affect the approaching presidential election — nay, the world?
Naturally, for a situation like this, Hollywood.com turned to semi-pro Donald Trump roaster Snoop Dogg (who has recently evolved into Snoop Lion), who shared his thoughts: "What can he announce? He's getting a new hair job? We don't believe Donald Trump in the neighborhood, so he's not affected."
So the jury is still out. We can only theorize on what secrets Trump will spill about our Commander-in-Chief. And theorize we will — after all, half the fun in watching a TV show is trying to beat the clock in figuring out the eventual plot twist. And what is life if not just the longest running drama on AMC?
As such, here's a few of our best hunches for what dark secrets the Prez might be wrapped up in.
Obama Is Working for Abu Nazir
During one of the president's international forays, he's bound to have crossed paths with Homeland's terrorist kingpin. And if Abu Nazir is capable of breaking and rebuilding a U.S. Marine, he might be able to do the same to the head of state. So how did Trump find out about this? Maybe he has Carrie Mathison on his payroll… or a wall full of classified printouts of his own.
Obama Is the Bay Harbor Butcher
President Obama was just down in Boca Raton for his final debate with former Gov. Mitt Romney. Perhaps during his stay in Florida, the POTUS disposed of a few troublesome characters, Dexter-style, off the Atlantic Coast. Let's hope Maya takes the news a little better than Deb did…
Obama Is Heisenberg
The White House would be the perfect meth lab… and Joe Biden — a rough-and-tumbler from the streets of Delaware — he's your classic Jesse. We have to wait a whole year for Breaking Bad to come back, so this might be a nice placeholder.
Obama Is the Mother
Finally! It all makes sense! Okay, no, this doesn't make any sense. But if Donald Trump does reveal that Barack Obama is the fabled wife of Ted Mosby on How I Met Your Mother, at least it'll mean something interesting happening on that show for the first time this season.
The possibilities are endless! Could Obama be the one who shot J.R.? The Cigarette-Smoking Man? The answer to how the polar bears got to the island? Leave your theories below!
Reporting by Lindsey DiMattina
[Photo Credit: Ivan Nikolov/Wenn]
More:
The Final Presidential Debate: Barack Obama vs. Mitt Romney – Who Won?
Presidentially Passive-Aggressive: The Catty Notes of Obama and Romney
President Obama Says Beyonce and Jay-Z Are 'Down-To-Earth'
From Our Partners:

Jessica Biel Shows Off Wedding Ring After Marrying Justin Timberlake in Italy — PHOTO
(Celebuzz)

Kristin Cavallari Doesn't Want to Plan a Wedding Right Now, Says She's Focusing on Motherhood for Now — EXCLUSIVE VIDEO
(Celebuzz)