Dorothy Hamill Quits 'DWTS' But At Least She's Not One Of These 6 Reality Quitters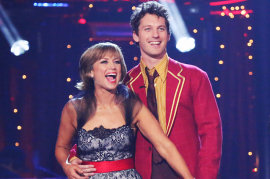 It's official: Dorothy Hamill is out of Dancing With The Stars for good. But unlike most reality show drop-outs before her, Hamill went out with a touch of class and a bit of honesty: she's putting her health before her ambition, taking time to fix her spinal cyst instead of risking it all for the mirror ball trophy.
And while she may feel a little blue after dropping out this early, it should be a comfort to know, that when it comes to reality TV, she is well above the usual fare that comes with the term "quitter." 
See? The only emotions evoked by this reality quitter are the kind that make us want to give her a hug. Dorothy, you'll be missed, but take solace in the fact that you aren't these people:
RELATED: 'Dancing With the Stars' Ratings
Seth Caro, Top Chef: Just Desserts
Caro lost control during his time on the pastry chef-specific season of Top Chef, while the other contestants were all trucking away in the competition. He finally broke down and grabbed his passport and suitcase, leaving the competition and (hopefully) his emotional meltdowns behind. Some people just aren't cut out for having cameras in their faces all the time. 
Kim Zolciak, Real Housewives of Atlanta
Kim was clearly rather tired of the party in her last episode of RHOA in December 2012. But being on Nene Leakes' bad side, after their Season 3 fallout, would be a strain on anyone. Go in peace, oh ye of giant yellow hair.
Mario Vazquez, American Idol
At least Hamill knows she's not in the same boat as Vazquez, who quit Idol mere weeks after being voted in as a semi-finalist with the excuse that he'd be just as successful as a semi-finalist as he would at any other place in the competition. Right, because Mario Vazquez is a name we know just as well as his Season 4 cohort and winner Carrie Underwood. This David Letterman Top 10 list definitely wasn't the height of his ensuing fame. 
RELATED: 'DWTS' Gets a Bachelor
Angelina Pivarnick, Jersey Shore (Twice)
Then there's Angelina, who was so unlikeable to all the Jersey Shore housemates that she was driven to quit the show TWICE. The second time happened in Miami after this disgusting brawl. 
NaOnka and Purple Kelly, Survivor: Nicaragua
These two ladies, who signed up for a competition series that requires its contestants to live like people stranded on a desert island. The entire point of the show is testing your own limits, but when things got a little too sweaty these ladies quit like a couple of pansies. Were they injured or mentally unstable? Nope. Just whiny and tired. 
RELATED: Full 'DWTS' Lineup for 2013
Of course, Hamill also has come good company in the form of other contestants who wisely put their health or well-being ahead of reality victory. So fear not, Ms. Dorothy, you'll be just fine. 
Alex Wong, So You Think You Can Dance
Fans were devastated when Wong left the competition to get surgery on his Achilles tendon with a subsequent three month recovery period, but after his departure, he went on to become one of the SYTYCD all-stars, who return to dance with the new contestants during the competition. When you quit for the right reasons, it all works out!
Follow Kelsea on Twitter @KelseaStahler
[Photo Credit: Adam Taylor/ABC]
---
You Might Also Like:


Topanga's Revealing Lingerie Shoot: Hello '90s!


13 Most WTF Fan Tributes