'Downton Abbey' Dish: Season Three is Shirley vs. Maggie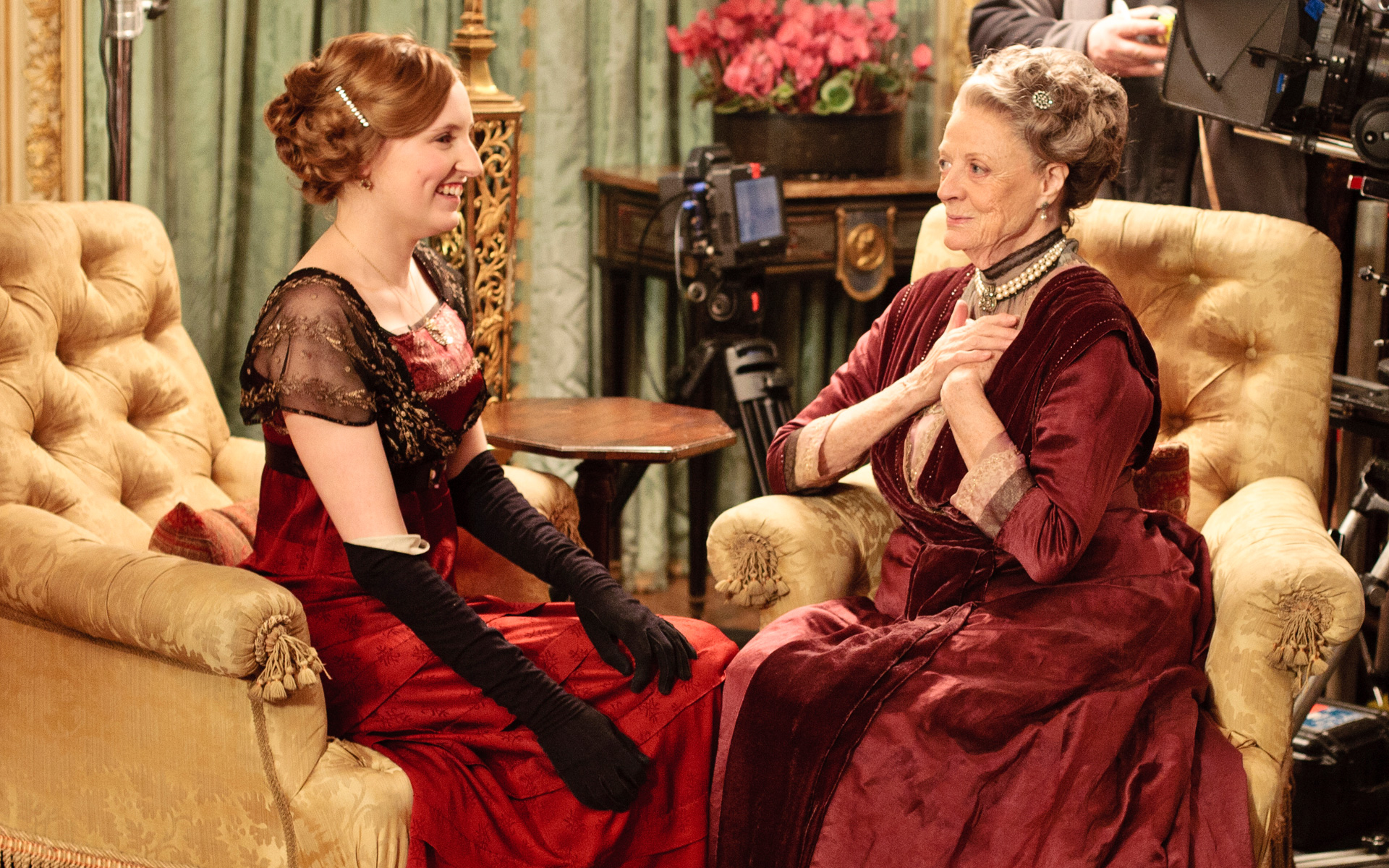 It looks like the drama will return to the Grantham family in the upcoming season of the fan-favorite PBS show Downton Abbey. At this year's Television Critics Association, the family took a minute off from filming–and being nominated for beaucoup Emmy Awards–to talk about the show's newest twists and turns. And it looks like show's notorious drama is only going to be amplified in the wake of the war.
And what can we expect for the illustrious family? Well for that, PBS screened some brand-new footage Saturday night in Los Angeles. And the sparks, they flew–most notable between Maggie Smith's Dowager Countess and Shirley MacLaine's Martha Levinson, aka Lady Cora's American mother. (Dreams do come true, you guys!) But as it turns out, this won't be the first time our lady matriarchs competed in a bit of a sass-off. MacLaine revealed Smith first chided her many years ago, backstage at the Oscars. MacLaine had been nominated and lost and Smith said pointedly, "You know what you did, dear? You tucked right into that chocolate cake and said, 'F**k it, I don't care if I'm ever thin again.'" Rawr, ladies! Them sounds like fightin' words. Play nice!
That wasn't all that was revealed, and we've got some of the hottest tidbits below:
– Uh oh! In one scene, Hugh Bonneville (aka's Lord Grantham/Robert Crawley), is shown tearily confessing to his wife Cora (Elizabeth McGovern) about an investment gone wrong, resulting in the family's money (including Cora's own personal wealth, which is what was keeping the family afloat) being lost. "Has some of my fortune been lost?" she asks. "Almost all," he replies, tearfully. Oh snap: TWIST!
– Could there be a romantic history between MacLaine and Smith? "We were lovers in another life," explained MacLaine, whose belief in reincarnation is no secret. No word on Smith's thoughts on the matter.
– Mr. Bates is still in jail (oh no!) and Anna's determined to free him, but it doesn't sound like an easy road ahead for the couple. However, showrunner/creator Julian Fellowes explained that the storyline will be resolved this season (thank goodness). Look out for a bevvy of "Free Bates!" t-shirts in The Internet's future. Though it has to be asked: is there a chance that Bates isn't telling the truth here?
– Edith may be on the fast-track to wedded bliss! Looks like Sir Anthony Strallan relented to Edith's sad and desperate advances after all! (Poor Edith. Poor, bitchy, insecure Edith.)
– Sybil and Branson (and baby makes three!) will be invited to Downton and of course Branson's mouthy political opinions make quite a splash with the family. Carson will no doubt need some smelling salts on hand.
– Looks like the exhausting "will they or won't they" that we thought ended with Mary and Matthew's engagement will be back. UGH, GUYS. Just stop and get married already! Bickering will ensue because, of course it will.
– Handsome fellow alert! New love interest for O'Brien? On snap, y'all! Apparently the new help is named Alfred, and it sounds like O'Brien gets a little bit googly-eyed over the new fellow, and her friendship with Thomas may suffer because of it. I, for one, can't wait for the friends to become conniving enemies out to destroy each other.
– The BEST thing about all of this is that our dear older dames will have a seemingly endless supply of sassing in store for us lovers of all things Dowager. When discussing Martha with Matthew, the Dowager does not mince words (but has she ever?): "When I'm with her, I'm reminded of the virtues of the English," the Dowager extols. "But isn't she American?" asks Matthew. "Exactly," Violet retorts. BOOM, ROASTED.
– Other zingers between the two women also include the previously-seen exchange: "Oh dear, I'm afraid the war has made older women of us both," quips Ms. Levinson. "I wouldn't say that, but I keep out of the sun." Dowager for the win, yet again.
So it looks as though there is tons in store for all us fans. We can only imagine the future of amazing one-liner zingers we're in store for. In our minds, the situation is rife with possibility. And keeping the foibles ahead in mind, we've crafted a few lines we imagine the Dowager speaking in the near future.
– "Apparently class is something that didn't fit into the luggage carousel on the Mayflower."
– "Americans confuse brutish audacity for charm."
– "It's about decorum; and this is certainly not the forum. What's next? Shall we be dining in the stables with the horses and the hounds?"
We've dreamed a dream, now make it real, Fellowes! Downton Abbey returns to PBS and the American shores in January 2013. Are you excited about the upcoming season? Let us know in the comments below!
[Image Credit: PBS]
Follow Alicia on Twitter @alicialutes
More:
Reading Between the Lines of Shirley MacLaine's 'Downton Abbey' Interview
A First Look at Shirley MacLaine's Sassiness on 'Downton Abbey'
Jimmy Fallon's 'Downton Abbey' Parody: Welcome to 'Downton Sixbey'