'Downton Abbey' Season Four Scoop: The Dowager Returneth!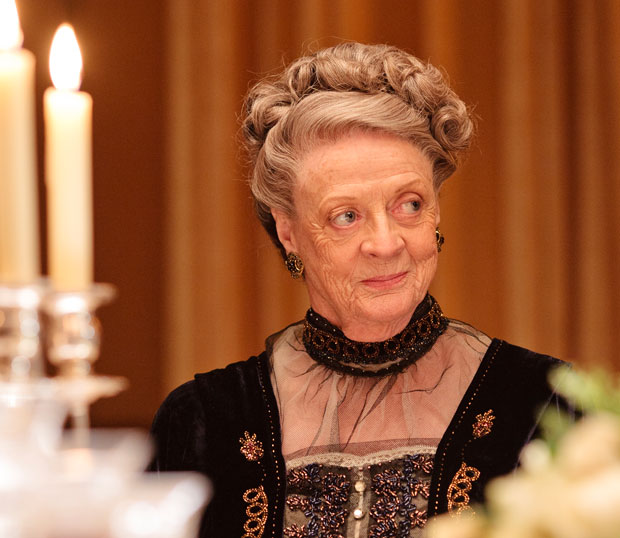 Someone, quick! Go have Anna or one of the other ladies' maids fetch some tea and bring it to me on the chaise lounge, because it's tea time, and also a time worth celebrating with a strong cuppa: Maggie Smith will be returning to Downton Abbey for its upcoming fourth season. Hear that sound? It's the collective sigh of relief from Downton fans the world over.
I know! We were all worried, of course — since rumors of Smith's departure from the idyllic Edwardian soap opera have run rampant for the past year. Fortunately, TVLine has the good word from Downton executive producer Gareth Neame, who confirmed the news on Sunday night that Smith would return for the upcoming season. No word on if she'll ever learn what a weekend is, though.
This past summer, the show's creator Julian Fellowes mentioned that Smith's future on the series was a bit foggy, stating that he couldn't say "'Oh, yes, she's definitely contracted [for Season 4] — because she isn't. … It's entirely up to her when she stays and when she goes." And as is the way with the iconic dames of her time, "With Maggie, you never know," Fellowes added. "I hope she stays with the show until Downton falls down."
We, personally, are thankful for the news of Smith's continued presence (and by that we mean "utter domination") on the British series. With [MAJOR SPOILERS AHEAD] (Seriously, don't read the next sentence if you don't want to know two major plot points from season three. You have been warned!) the loss of actors Jessica BrownFindlay and Dan Stevens this season alone, trepidation over the series' continued success seemed nothing short of a dull roar.
Are you glad Maggie Smith is returning to Downton? Sound off in the comments!
[Photo Credit: PBS]
Follow Alicia on Twitter @alicialutes
More:
Sharing the Love (and Hate) of Your Favorite 'Downton Abbey' Characters
Is Dan Stevens Leaving 'Downton Abbey'? Here's How to Deal
'Downton Abbey' Recap: Nobody Loves Edith

Megan Fox's 12 Hottest Moments (Moviefone)