Dr. Drew to Host Star-Free Version of 'Celebrity Rehab'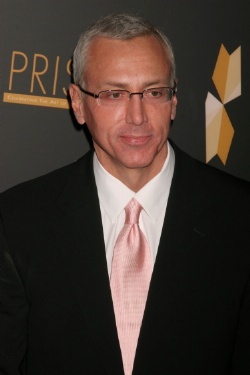 Will anyone tune in for a season of Celebrity Rehab that doesn't involve exploiting stars' drug addictions for entertainment purposes? We're about to find out, because Dr. Drew Pinsky has signed on for a sixth celebrity-free installment of his hit VH1 show.
Rehab With Dr. Drew, which starts production on Monday, focuses on a group of civilians battling drug and alcohol addiction. Supposedly, the shift was inspired by an effort to tell a different kind of addiction story. "Many of our young adult viewers have shared with us that Dr. Drew and our multiple seasons of Celebrity Rehab has made them more aware about substance abuse. And a large number of them have asked for his assistance with their own challenges," said Jeff Olde, VH1's Executive Vice President of Original Programming & Production. "This season, the moment felt right to turn our focus from celebrities to young adults who could benefit under Dr. Drew and his team's expert professional treatment … In some ways, we felt that stripping away the celebrity layer could reach even more viewers and touch them in a different way."
Of course, what Olde doesn't mention is that for years show has been accused of putting celebrities' in a situation designed to make good TV rather than healthy people. Turning the series into Intervention provides an opportunity for Dr. Drew to rebuild some of his tarnished reputation. (Unlike many other TV doctors, Pinksy is actually a board certified physician who continues to practice medicine, though you wouldn't know if you've only seen him weigh in on Lindsay Lohan's troubles.) Yet, it's unclear if Rehab will provide enough excitement without scenes of Michael Lohan screaming at his fiance. There are already several shows about non-famous people battling drug addiction, including TLC's Addiction and the aforementioned Intervention, so the only thing that will set Rehab apart is the celebrity status of Dr. Drew.
More:
Crazy Town's Shifty Shellshock in Coma
Dr. Drew Claims Amy Winehouse Contacted Him Before Her Death
Nicki Minaj Back on Twitter: Other Celebs Who Failed to Quit
[Us]