What Networks Can Learn From the Amazing 'Duck Dynasty' Ratings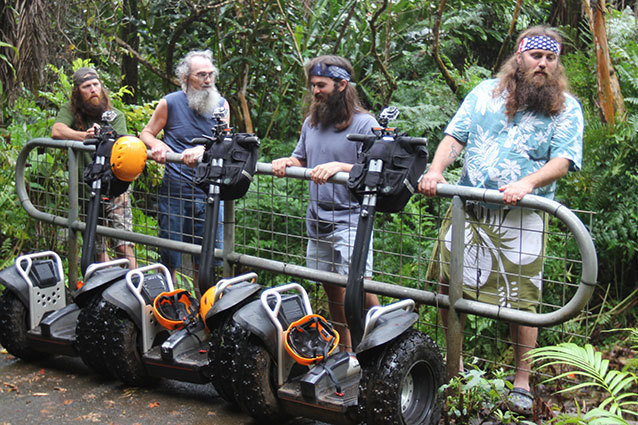 The season four premiere of A&E's Duck Dynasty was shocking. Not because of the content, which saw Robertson parents Phil and Kay renew their wedding vows, but because of the record-high ratings for the hour-long episode. The premiere attracted 11.8 million eyeballs, the most ever for an unscripted show on cable television.
Undoubtedly, television executives everywhere are already trying to decode and emulate Duck Dynasty's success. Here are a few lessons the Robertson clan can teach these scrambling network honchos:
Leave New York and L.A.
Since so many TV shows take place on the coasts, it becomes refreshing to get a look at another part of the country. The Robertsons' Louisiana country living is a nice change of pace from frenetic New York City streets or sunny Los Angeles skies.
Do Smarter Dumb Humor
Duck Dynasty's audience has grown dramatically in part because of one simple truth: it's really funny. Unlike most non-scripted reality programs, however, Duck Dynasty is not a mean-spirited show. The Robertsons are obviously in on the joke, which makes the collaboration between family and editing all the sweeter.
Don't Fear Faith
Faith is a large part of many people's daily lives, yet manages to go almost wholly unmentioned on the small screen. Not so on Duck Dynasty, where the whole clan ends each episode with a mealtime prayer. There's a difference between proselytizing and showing faith as an everyday part of life, and for a large part of the American audience the Robertson's forthrightness and humor about their faith make them all the more relatable.
The success of Duck Dynasty doesn't mean audiences are looking for more "redneck" television shows, just that they're looking for TV to portray a broader representation of American life.
More:
'Duck Dynasty' Oficially Beats 'American Idol' And Everything Else 
'Duck Dynasty' Season 3 Finale: Most Ridiculous Quotes
'Duck Dynasty' Aren't The Weirdest Guests At The White House
---
From Our Partners


Stars Pose Naked for 'Allure' (Celebuzz)


20 Grisliest TV Deaths of 2012-2013 (Vulture)