Dustin Hoffman Hosts Wake for Dead Show 'Luck'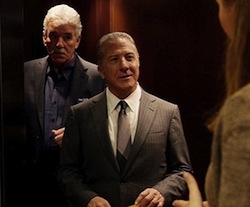 When a TV show dies an untimely death, no one's in the mood to party. That's why Dustin Hoffman came up with an alternate plan:  Holding a "wake" for his recently canceled HBO series Luck.
Hoffman, who starred in the drama, hosted the Friday night event along with director Michael Mann and executive producer David Milch. According to the invitation, the party was held at an upscale Hollywood restaurant to thank the cast and crew for "all the beautiful work," they did on the show.
Earlier in the day, members of the cast and crew gathered for breakfast at a coffee shop in Arcadia, California. Several people who worked with the horses said they were extremely well-treated, and the three horse deaths that led HBO to axe the show were unavoidable accidents. John Ortiz, who played Escalante on the show, said of the cancelation, "I can't put it into words," adding, "I'm trying to stay as positive as I can given the obvious emotions of being heartbroken."
Source: TMZ, N.Y. Daily News