DVR Me: Walter White's Final Bow
After five incredible seasons Breaking Bad  reaches its climactic finish this Sunday. Will you be watching? Here's a rundown of this week's other highlights.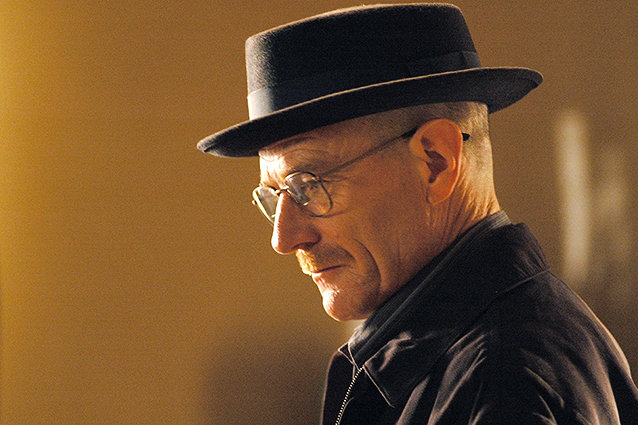 AMC
Breaking Bad, Series Finale
Will Walt be killed off? What will become of Jesse Pinkman? And who said Saul Goodman could star in his own spin-off? The last few episodes of Breaking Bad have been some of the most intense ever, meaning all these questions and more will be answered when the series comes to a close on Sunday. What can viewers expect? Hopefully it's nothing like the infamous "blackout ending" that riled up fans of The Sopranos  six years ago. Worst. Finale. Ever! The final episode of Breaking Bad will air this Sunday, September 29 at 9 PM ET on AMC.
Modern Family, Season Premiere
Fresh off another Emmy win for Outstanding Comedy Series, the extended Pritchett family returns for a fifth season this week on ABC. Season five is usually a turning point for most successful sitcoms, with fatigued writers beginning to run dry of fresh ideas. Sometimes a series could squeeze out a few more solid seasons, as was the case with Seinfeld. Or the show's executive producer will push his staff to continue churning out more of the same, as Matt Groening has been doing with The Simpsons  for nearly a decade and a half now. The fifth season of Modern Family  premieres this Wednesday, September 25 at 9 PM ET on ABC.
Saturday Night Live, Season Premiere
The 39th season of SNL is one of the most widely anticipated in recent years, with Tina Fey hosting, cast member Cecily Strong joining the soon-to-depart Seth Meyers at the Weekend Update desk, as well as six new members joining the cast. Of course it's become somewhat of sport for those in the media to write off SNL every few years as being past its prime. Yet here we are, nearly 40 years later, and still talking about it. Lorne Michaels must be doing something right. Saturday Night Live  kicks off its new season this Saturday, September 28 at 11:30 PM ET on NBC.
Eastbound & Down, Season Premiere
Yep – Kenny Powers is back for a final season, at least for now. HBO basically canceled Eastbound & Down last year, only to bring the show back for a fourth and (presumably) final season, which premieres this Sunday. Last year saw Kenny fake his own death, only to realize shortly after what a huge mistake he made. Hmm…kind of reminds me of something. Season four of Eastbound & Down  premieres on Sunday, September 29 at 10 PM ET on HBO. 
Master of Sex,  Series Premiere
Showtime is quickly proving itself to be a worthy competitor to HBO, with critically acclaimed shows like Dexter and Homeland, and now the widely anticipated premiere of the period drama Masters of Sex, all included in its increasingly watchable lineup. Cable may have at one time been the ugly stepchild of television. But now it seems almost regressive to watch serious television on any of the Big Four networks. Who knew? Masters of Sex  premieres at 10 PM ET on Sunday, September 29. 
More:
Five Horrible, Horrible Ways 'Breaking Bad' Could End
The Funniest Emmy Moments of All Time
Things You Need to Know About 'Scandal' Creator Shonda Rhimes
---
From Our Partners


Stars Pose Naked for 'Allure' (Celebuzz)


20 Grisliest TV Deaths of 2012-2013 (Vulture)