DVR Me: New Girls, Country Singers, and Alice's 'Wonderland' Revisited
This week ABC will premiere its long-awaited Once Upon a Time  spinoff, while the third season of New Girl  heats up with a brand new episode. And just in case you were wondering, it involves a cat being neutered. Here are the other shows you need to be recording this week.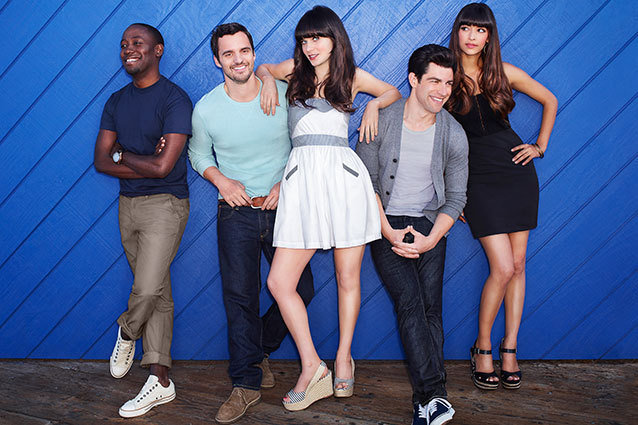 Dewey Nicks/FOX
New Girl, Fox
The third season of Fox's critically acclaimed comedy of twenty-something LA singles is back with an all new episode. And yes, the plot does involve Winston taking his cat out for one final hurrah before having the poor defenseless creature fixed (as in permanently!). Only in La La Land would any of this make sense. New Girl  airs Tuesdays at 9 PM ET on Fox.
Nashville, ABC
Why is ABC's Nashville one of the most strangely addictive dramas on network TV? Well for one, having Connie Britton in your cast, whose last show, Friday Night Lights, was the best drama to come out of network TV in decades (yet one that no one watched), certainly does help. Maybe just a little. Nashville airs Wednesdays at 10 PM ET on ABC.
Once Upon a Time in Wonderland, ABC
Already one of the biggest fantasy dramas on network TV, ABC's Once Upon a Time  is being spun-off into a brand new series that follows the same Alice from the Lewis Carroll books. Will Wonderland be as big of a hit for ABC as its parent show? Well when you consider the fact that Tim Burton's poorly-reviewed Alice in Wonderland  from 2010 made a billion dollars (it's in 3D, Mommy!), you see why an Alice-themed TV show is such a slam dunk. Once Upon a Time in Wonderland  premieres Thursday at 8 PM ET on ABC.
Boardwalk Empire, HBO
Most of HBO's period mob drama takes place in Tampa this season, with Nucky Thompson (Steve Buscemi) trying to secure new business opportunities. You think people from the Sunshine State are wacko now? Wait until you see how nutty they were in the Prohibition era! Boardwalk Empire  airs Sunday at 6 PM ET on HBO.
Hello Ladies, HBO
One half the creative team that brought The Office  to America (not Ricky Gervais) tries to find love in that sun-drenched pillar of fakery and pretension, otherwise known as Los Angeles. He may have signed up for more than he bargained for, but at the very least, there'll be a ton of laughs along the way. New episodes of Hello Ladies  air Sunday nights at 7:30 PM ET on HBO.
More:
'Breaking Bad' Series Finale: The Perfect Goodbye
Bad Green Screen in 'Dexter' Season Finale
'Boardwalk Empire' Renewed for Season 5

---
From Our Partners:


40 Most Revealing See-Through Red Carpet Looks (Vh1)


15 Stars Share Secrets of their Sex Lives (Celebuzz)