DVR Me: 'Scandal' Returns, and Comedy Is Still King
Breaking Bad  is over, meaning we can all use a good laugh. Here's a rundown of what you should be recording this week.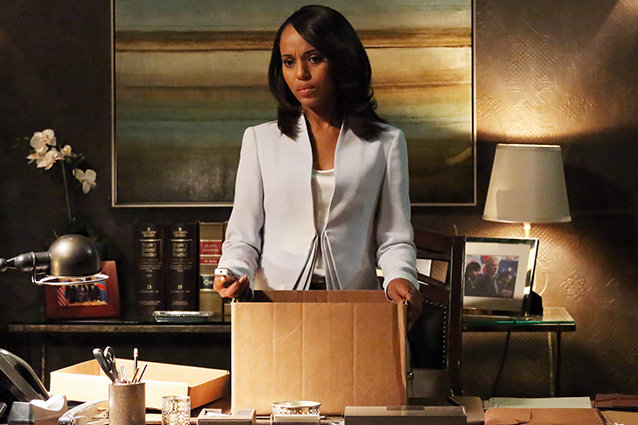 Richard Cartwright/ABC
Key & Peele, Comedy Central
You know your show is popular when a 60-year-old teacher in Des Moines can recite, word for word, one of your sketches. Now that's talent! Key & Peele  may not be the level of say, an SNL or Chappelle's Show, as far as sketch comedy is concerned. But the boys are slowly working their way up the ranks, having made a slew of funny sketches that have already gone viral.  If the name A-a-ron brings a smile to your face, you probably already know what I'm talking about. Key and Peele airs Wednesdays at 10:30 PM ET on Comedy Central.
Scandal, ABC  
Shonda Rhimes's sexed-up political thriller returns for a third season on ABC, with what's sure to be a whole slew of new back stabbings, murders, and adulterous affairs. It's kind of like a semi-fictional version of the real White House…on second thought, no, no it's not at all. That would just be boring. Scandal airs this Thursday at 10 PM ET on ABC.
Parks and Recreation, NBC
Currently in its sixth season, the show about small town Indiana politicos has taken over where 30 Rock, which ended its seven season run last year, left off… i.e. it's the best sitcom on network TV. So watch it already! Parks and Rec (yeah, that's what the cool kids call it) airs Thursdays at 8 PM ET on NBC.
Family Guy, FOX
Why watch Family Guy, which just premiered its twelfth season last week on FOX? Put it this way, Seth MacFarlane and his staff are at the top of their game, and unlike their animated brethren The Simpsons, have yet to run out of hilarious material. Peter Griffin is just as crass and dimwitted as ever, with Family Guy still being one of the most consistently laugh-out-loud funny shows on TV. Matt Groening can learn a thing or two. Family Guy  airs Sundays at 9 PM ET on FOX.
Sean Saves the World, NBC
Sean Hayes makes his triumphant return to NBC as a single father that also happens to be gay. It's been nearly a decade since Hayes last played a gay character on TV (he was Jack on Will & Grace), and since then, he hasn't really done much aside from guest star on an episode of WWF Raw. So yeah, I'd say returning to familiar territory is a smart career move. Sean Saves the World  debuts on Thursday, October 3, at 9 PM ET on NBC.
More:
Can 'Elementary' Keep Us Hooked?
Did 'Agents of S.H.I.E.L.D.' Get Off to a Good Start?
Serious Actors Who Are Seriously Funny
---
From Our Partners


Stars Pose Naked for 'Allure' (Celebuzz)


20 Grisliest TV Deaths of 2012-2013 (Vulture)