'DWTS': A Surprise Couple Gets Eliminated — See the Results Here!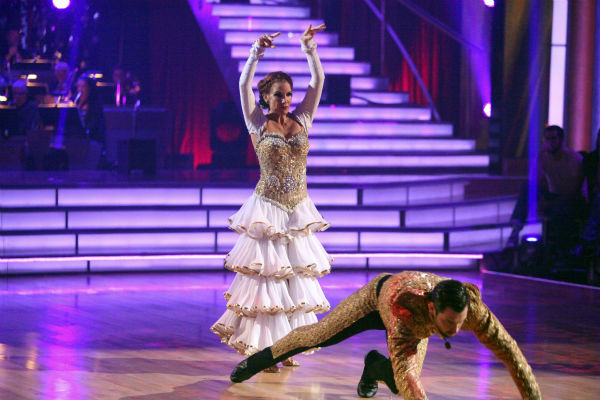 Update: Major spoiler alert! Sorry, Sherri Shepherd, but that Mirror Ball trophy is no longer within your view. In a shocking twist, the comedic TV host was eliminated from the competition and asked to hang up her dancing shoes for good. It just goes to show that when it comes fan votes, almost anything is possible. We'll miss you, Sherri!
Earlier: Dancing With the Stars is always a tough show to predict. Since many of the stars are relatively unknown, you can never be too sure where the most vote tallies will fall. Despite their lower scores this week, Katherine Jenkins and William Levy will most likely survive on fans' support alone, but it's pretty much a gamble for a number of the other competitors.
Gavin DeGraw has found himself in the bottom three for the past few weeks, and while he's still managed to escape an actual elimination, his luck can only get him so far. And since he failed to impress during Rock Week, it's more than likely he'll face the hot seat once again.
Gladys Knight ended up at the very bottom of the leaderboard receiving a mere 20 out of 30 points. Does the Queen of Soul have a strong enough fan base to help carry her on to the next round?
And then there's our injured contestants: Melissa Gilbert, who suffered a mild concussion and whiplash in the middle of April 9's show, and Maria Menounos who's already endured two broken ribs and multiple stress fractures in her foot. If neither of them are able to recover, viewers could see a forfeit in the near future (let's hope not — these ladies show some real potential).
But if Jack Wagner's elimination from week three taught us anything it's that anything can happen when left in the hands of the public. So what's it going to be, America? Who do you want to send packing? Sound off on your predictions in the comments below and check back here later tonight to find out who will be hanging up their dancing shoes for good.
Dancing With the Stars' result show airs Tuesday nights at 9 PM (ET/PT) on ABC.
More:
DWTS Rankings: The Top 10 Failed To Rock on Rock Week
Melissa Gilbert Rushed To Hospital During DWTS Taping