'DWTS' Finale: Louis Van Amstel Weighs in on Shawn Johnson's Big Risk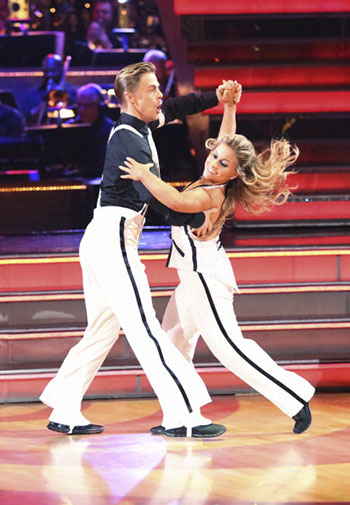 With only a few hours to go before the big reveal on Dancing With the Stars: All Stars, we looked to pro-dancer and All Star competitor Louis Van Amstel for a little perspective. Who might be taking home that mirror ball? And did Shawn Johnson's big risk put her jeopardy?
"It was very, very risky to do what they did," he says.
When it came time for Johnson and her partner, Derek Hough, to revisit their favorite dance from earlier in the season, the duo picked their controversial quick step – a dance that garnered criticism from the judges for its breach of DWTS law. Hough and Johnson decided to break the rule – which states that both dancers must be touching through the routine – once more, but when the music stopped, the audience certainly didn't seem to mind. The thunderous applause could have crumbled walls in a feebler theater.
"Earlier in the season, they took risks but they were up against celebrities who didn't have the fan bases. Now, they're up against two celebrities who've never been in the bottom two, or the bottom three, and they had higher scores," says Van Amstel.
And while Van Amstel says he doesn't think the risk will ruin their chances, he doesn't think the duo needed to live so dangerously. "It was a reflection of quickstep. It was an entertaining dance, but it broke the rule … They had so many great dances … I would have chosen one of those because, you know what, they don't have to prove any more that they can dance or that they can be rebellious," he says.
Johnson is clearly a talented dancer, and her gymnast background gives her an athletic edge that allows her to try stunts the other dancers probably wouldn't brave. Hough is widely regarded as one of the top choreographers on the show, and this quick step was by no means his only shining moment. "They could have done something else, followed the rules, and still had the audience on their feet," says Van Amstel.
Still, as a Season 15 contestant, Van Amstel is rooting for all of his cast mates. "All three guys, all three girls … [we] bonded equally," he says. "Purely, from [the perspective] of what Dancing with the Stars is about – a non-dancer learning to dance – it's Kelly. But if you look at Dancing With the Stars as a dance competition, Melissa should win. And if you look at the consistency of bringing your A-game every single week, I would have to give it to Shawn," says Van Amstel.
Of course, that doesn't give fans solace in one direction or the other. Is there such a thing as a front-runner at this point in the All Star season? Nope. "Any of three of those girls could win," says Van Amstel.
Unfortunately, we'll have to sweat it out until the end of tonight's Season 15 finale. If only we could muster a little patience.
Follow Kelsea on Twitter @KelseaStahler
[Photo Credit: ABC]
More:
' Dancing With The Stars: All-Stars' Recap: McKayla is Still Not Impressed
'Dancing With the Stars' Recap: Apolo and Emmitt Say Farewell
'Dancing' Backstage With Louis van Amstel: 'I'm Scared to Death' — EXCLUSIVE

Chris Brown Makes NSFW Poop-Related Insults, Deletes Twitter Account

Blimey! They're British?? Can You Guess TV's Most Surprising Accents?