'DWTS' Introduces the Dance Duel — Did It Work?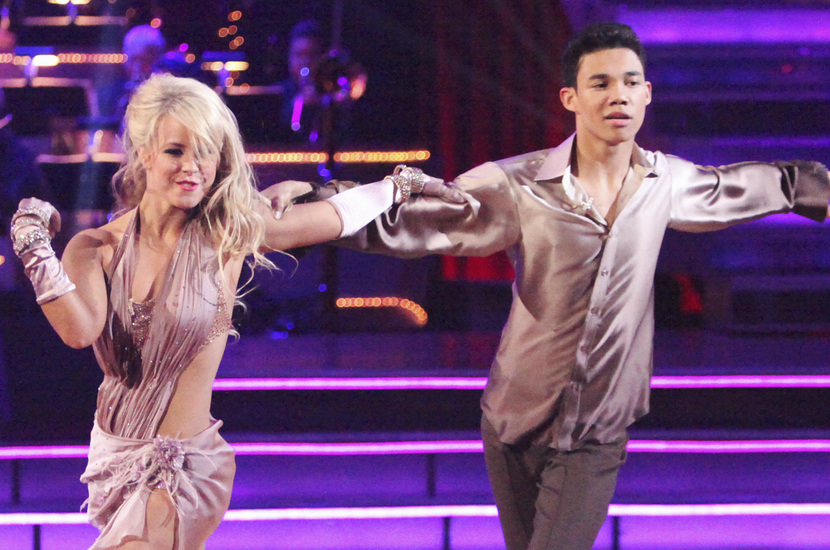 April 17's results show on Dancing With the Stars introduced a new element to the dance competition that has never been done before: the Dance Duel. For those of you who are familiar with American Idol, it is very reminiscent to the Judges' Save in that they have the power to prevent an undeserving contestant from going home. So the couples who received the two lowest votes are pitted against each other in a dance-off, performing a routine simultaneously in front of the judges, who decide — based on that performance alone — which couple is sent home.
Placing something like this in a voting competition can garner some pretty mixed reviews. On one hand, it's a great way to help preserve the integrity of the show and ensure that this remains a dance competition, not a popularity contest. But at the same time it also devalues America's voting privileges, which could potentially turn viewers off from the show. Both are equally fair points, but for this week I was definitely glad to have the safeguard in place.
It came as no surprise to see Gavin DeGraw end up in the bottom two once more, given his less than lackluster performance for Latin Night, however, it was a bit shocking to see Jaleel White join him in the hot seat. Not only has White remained consistently talented since Season 14 debuted, but he's also one of the most well known given his Urkel background, so his almost-departure came as quite the surprise. It's times like this when having the judges' level-headed logic comes at a great advantage. As lovable as DeGraw is, his dancing skills pale in comparison to White's, making him the more deserving of the two to be eliminated.
It's always hard to say goodbye to people on this show, especially since you know they're working so hard, but the Dance Duel was a solid way to ensure we won't receive another shocking upset like we saw with Sherri Shepherd.
What did you think of this week's result show? Are you a fan of the Dance Duel or would you rather leave the decision up to America's votes? Who would you have chosen to end up in the bottom two?
Follow Kelly on Twitter @KellyBean0415
More:
'DWTS' Says Goodbye To Another Couple — See The Results Here!
'DWTS' Recap: The Top 9 Couples Make a Steamy Comeback