'DWTS' Week 4: Aly Raisman's Emotionality 'Surprised' Louis van Amstel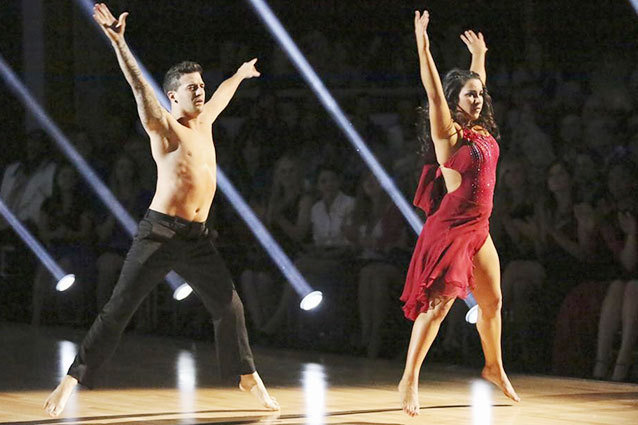 In a week full of emotionally charged dances about the best year of the celebrities' lives on Dancing With the Stars, one star shined brighter than she had all season. Olympic gymnast Aly Raisman stepped up her game physically, and for the first time emotionally, at the meaningful challenge.
"I'll be honest with you — Aly was good, not great, Week 1, 2, and 3," DWTS pro dancer Louis van Amstel tells Hollywood.com. "But last Monday she was phenomenal. And she wasn't even over-the-top emotional. She was true, she was honest, and vulnerable. It was perfect. Those three 9's were absolutely deserved."
The other star of the night according to van Amstel was Andy Dick, whose waltz was a tribute to his recovering relationship with his daughter. "Everybody can see he's not a dancer," van Amstel says. "He has some awkward movements, and even his waltz dancing-wise had some awkward moments — but he does commit to it. But [with] just his story alone, I would have given him an 8. Is that right? No, because it's a dance show and you have to judge on dancing, but I am just so happy he's still in the competition. And his daughter was there, very supportive and happy for him."
Dick's story really struck a cord with van Amstel emotionally. "I have had my own [parenal] experiences, so for me to see the relationship between his daughter and him restored was amazing," van Amstel says. "I'm so happy for him."
And while Lisa Vanderpump was eliminated last week after suffering from some health issues, van Amstel thinks it's for the best. "I really feel for Lisa, and I really hope that she's okay now," he says. "But the woman has so much on her plate. She owns two restaurants, she's on two reality shows plus DWTS, and at one point your health starts staying you have to stop. Her elimination was a message. I really hope Lisa is feeling better because in the end health is more important than winning the Mirrorball trophy."
Additionally, one celebrity that surprised van Amstel with improvement was Ingo Rademacher. "Ingo's Viennese waltz was great, and was such an improvement from last week's," van Amstel says.
This week, fan-favorite pro dancers are returning to DWTS to dance alongside the couples in "Len's Side-By-Side Challenge," and van Amstel is especially looking forward to their performances. "I'm very excited to see them," van Amstel says. "They are some of the top pros in the country ,so it's time for them to show [the contestants] how it's done. And they will!"
Tune in to Dancing With the Stars on Mondays at 8 PM ET/PT, and Tuesdays at 9 PM ET/PT on ABC.
Follow Sydney on Twitter: @SydneyBucksbaum
More:
'DWTS' Week 3: Loius van Amstel Thinks Victor Ortiz 'Redeemed Himself'
'DWTS' Week 2: Louis van Amstel is 'Worried for D.L.' Hughely
'DWTS' Week 1: Louis van Amstel Weighs In On the Best (and Worst) Pairs
---
From Our Partners


Jessica Alba Bikinis in St. Barts (Celebuzz)


Which Game of Thrones Actor Looks Least Like His On-Screen Character? (Vulture)