'Dancing With The Stars': Louis van Amstel Predicts Week 8's Elimination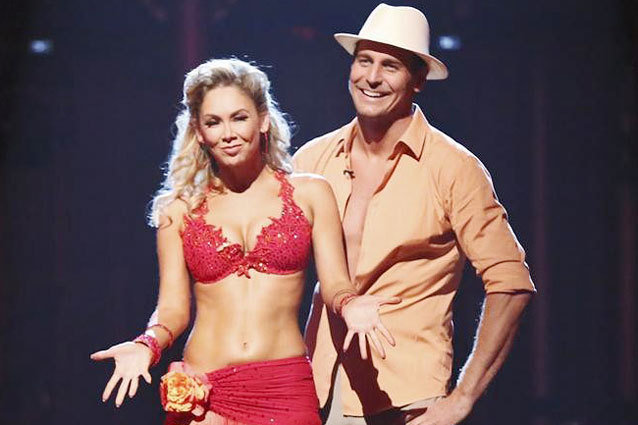 There comes a time in each Dancing With the Stars season when the fan favorites with so-so dancing ability must go, and that time came last week when Andy Dick was eliminated from the competition.
"It was so sad. The guy brought so much heart and hard work to the show, and had so much commitment," DWTS pro dancer Louis van Amstel tells Hollywood.com. "I'm not saying Ingo [Rademacher] and Sean [Lowe] have not, because they are working so hard as well, but there was just something about Andy that was undeniable."
Though van Amstel enjoyed watching Dick improve from week, he understands why he was eliminated. "He's going to be missed, but from a dancing point of view, it was time for him to go," van Amstel says. "But if he would have stayed and Ingo had gone home I would have not been surprised just because of Andy's likeability factor."
Now that Dick is out of the competition, van Amstel thinks this week's elimination will come down to Rademacher and Lowe. "Both Ingo and Sean, you could read on their faces that they were thinking and trying to do a good job and in a way that's very endearing," van Amstel says. "But these two guys are up against Jacoby [Jones], Aly [Raisman], Kellie [Pickler], and Zendaya. From day one they came out of the gate strong while these guys have kind of just hopped along."
Since the beginning of Season 16, van Amstel has been confident that the top dancers were Zendaya, Pickler, Jones, and Raisman, and that means bad news for Lowe and Rademacher. "I really don't think, quite honestly, that there is anything that Ingo or Sean can do to beat Jacoby, Aly, Zendaya, and Kellie," van Amstel says. "So unfortunately, one of the two is going home, either Ingo or Sean. But we're talking Week 8. That is not a bad result for someone that has never danced."
When it comes to the top three dancers, van Amstel isn't sure who will make it to the finals — or which team he prefers. "I like when the competition is not very clear. There is competition between the first and second place, between Zendaya and Kellie, and then between the third and fourth place. Who will be the third couple in the final, between Aly and Jacoby?" van Amstel wonders. "But this is based on dancing, not based on who has the biggest fan base. We don't how the fanbases are going to vote, so I think it might be the battle of the fanbases."
Watch Andy's final dance in the competition, the Rumba:
Tune in to Dancing With the Stars on Mondays at 8 PM ET/PT, and Tuesdays at 9 PM ET/PT on ABC.
Follow Sydney on Twitter: @SydneyBucksbaum
More:
'DWTS' Week 5: Why Louis van Amstel 'Isn't Worried' for Andy Dick
'DWTS' Week 4: Aly Raisman 'Surprised' Louis van Amstel
'DWTS' Week 3: Louis van Amstel Thinks Victor Ortiz 'Redeemed Himself' 
'DWTS' Week 2: Louis van Amstel is 'Worried for D.L.' Hughley
'DWTS' Week 1: Louis van Amstel Weighs In on the Best (And Worst) Pairs
---
From Our Partners:


Watch Justin Bieber Attacked in Dubai (Celebuzz)


33 Child Stars: Where Are They Now? (Celebuzz)