'DWTS' Recap: The Top 9 Couples Make a Steamy Comeback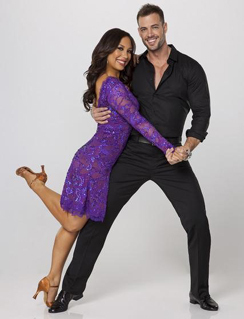 Dancing With the Stars has proven to fans on numerous occasions that contestants can rise and fall within the blink of an eye. And while the cast of season 14 suffered a minor dip in scores during Rock Night, Latin Night proved to be a night full of comebacks. Couples who had fallen from glory found themselves once again in their rightful place at the top of the leader board, gracing the dance floor with a plethora of steamy routines.
There's absolutely no doubt about it: These stars are in it to win it and continue to up the ante with each and every step they take. These guys may not know how to rock n' roll, but they can most certainly shake those hips and show off their sexy side — and I'm not just talking about William Levy (though he does contribute quite a bit to that statement). Carrie Ann was beside herself, Len was extremely pleased (which is really saying something), and Bruno was completely hot and bothered. Well, more so than usual. The crowd was ecstatic, the judges were happy, and the overall enthusiasm really paid off in many of the contestants' scores.
The Comeback Kids
Katherine Jenkins performed the Argentine Tango, displaying a level of talent that is usually only seen by the pros. This normally sweet, innocent girl was the epitome of confidence and sex appeal, which made even Len sit up and take notice. Like a predator stalking her prey, Jenkins' moves were sharp and spot on, which was matched only by her fellow competitor William Levy who tied Jenkins at the top of the leader board with an impressive 29 out of 30 in his equally sexy rendition of the Argentine Tango. If you really want to see Bruno come undone just have Levy perform this little hip thrusting number. I can only imagine what you could do if he had two completely uninjured ankles. Carrie Ann even dubbed him the "Latin dancing James Bond." Jenkins and Levy have always been the front-runners of the competition with the exception of last week when they experienced an unsettling decline in the rankings. Hopefully this significant bounce back to the top will help pull them through to the next round where they so rightfully deserve to be.
The Constants Become Competition
Donald Driver, Maria Menounos, Roshon Fegan, and Jaleel White have remained fairly consistent with their scores throughout the majority of the competition. They're neither the front-runners, nor the weakest links in the group, which means their fate could go either way. But Donald proved that he more than deserves to be on the show during his incredible performance of the Argentine tango. Everything about him was slow and controlled, which left both viewers and the judges wanting more. He may be well known as the master of the football field, but last night he was the master of sexuality. It looks like William Levy may have some real competition on his hands.
Roshon and Jaleel are extremely powerful dancers in their own ways, and they only seem to be getting better with time. However, Roshon tends to get a little overly-enthusiastic during his routines, acting more like a kid on Christmas morning that anything else. He's got the moves and skills to be a big time competitor, but he just needs to harness that energy in a different way. Jaleel, on the other hand, could use some of that enthusiasm in his dance numbers. I don't feel as much passion from him as I do in some of the other contestants, but his smooth moves and dance skills give him the potential for greatness. These guys are definitely ones to look out for.
And then there's Maria with her strange, romantic relationship with her dance partner Derek Hough. She's an amazing dancer that's able to easily shift from graceful to sexy with no problem at all, but the kiss she shared with Derek last night felt extremely out of place. In fact, the judges thought it hindered their performance rather than helped it. Granted, I'm usually up for any reason to see Derek's shirt come off, but I had to agree. It feels like they're trying to gain popularity based on their feelings for each other rather than their actual dancing, and they don't need to. They make an incredible couple on and off the dance floor. If they focus more on their dance chemistry they could very well end up winning this competition altogether.
The Bottom Dwellers Never Fail To Entertain
Gladys Knight, Melissa Gilbert, and Gavin DeGraw have never been the strongest dancers on the show, but it's always amazing how they're still able to bring something to the table amid all the other talent. Gladys and Gavin danced the Samba and while it definitely lacked some steps in the technical department, these two really know how to work a crowd (probably because they're two of the biggest names on the show). So even though they'll probably end up going home once the fan votes aren't enough to balance out their low scores, they always managing to be purely entertaining. Who knew Gladys could shake her booty so well? Look out, Shakira!
Melissa did incredibly well, especially considering her recent injury took her out of commission for a few days. She's also never been one of the stronger dancers, but she too is always a joy to watch. The sheer dedication that this cast brings to the competition each week is mind boggling. Now it's just a question of what's going to win out longer: Technical talent or pure entertainment value?
Were you surprised with the rankings this week? Who do you think had the spiciest routine for Latin Night? Who stands the biggest chance of being placed in the bottom two during tonight's results show?
Follow Kelly on Twitter @KellyBean0415
More:
'DWTS' Rankings: The Top 9 Couples Sizzle For Latin Night
'DWTS': Melissa Gilbert & William Levy Saved by the Sympathy Vote?