'DWTS' Results: America Crowns The Semi-Finalists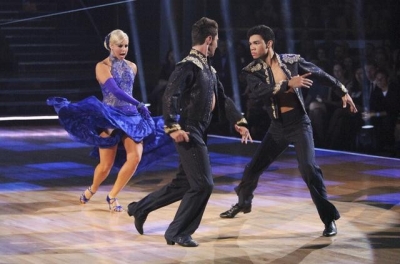 We knew this season of Dancing With the Stars was going to be a hard one to judge. With so much talent it's difficult to decide who actually deserves to leave and who should stay. But May 8's result show proved that America isn't going to let a few high scores get in the way of who they want still standing dancing come the semi-finals. Despite earning the second highest scores this week, Roshon Fegan was booted from the competition last night in the double elimination round, alongside Melissa Gilbert.
This decision has been a long time coming for both of these contestants. While Melissa has made great strides in her performance quality throughout the season, her performances were mediocre at best, especially when compared to the likes of Katherine Jenkins and William Levy. And let's face it, poor Roshon probably would have been gone a few weeks ago if it hadn't been for the judges' Dance Duel. It just goes to show how sincere hosts Brooke Burke Charvet and Tom Bergeron are when they say judges' scores aren't enough — it's the votes that are going to keep you safe.
But while America had always made their intentions for Roshon's fate pretty clear, voters are going to have their hands full when it comes to deciding who will get cut during next week's semi-finals. Maria, Katherine, William, and Donald are matched in talent and none of them have been in the bottom two before, so we have no idea where America's loyalties lie.
This could seriously be the most unpredictable season in DWTS history. Choose wisely, America. As you've shown us with this double elimination, this decision is all on you.
What did you think of this week's results show? Were you surprised to see such a high-scoring player get the boot? Who do you think stands the biggest chance of making it all the way to the finals? Sound off in the comments below!
Follow Kelly on Twitter @KellyBean0415
More:
DWTS Results: Who Survived The Double Elimination?
Dancing With the Stars: Long Live the Trio Dance!
DWTS Top Six Rankings: Oh, How the Mighty Fall
[Photo: ABC]