'DWTS' Says Goodbye To Another Couple — See The Results Here!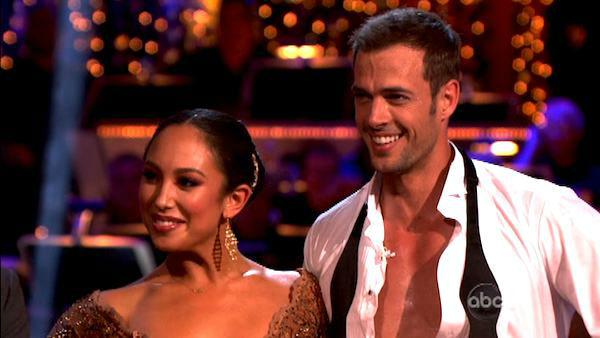 Update: Sorry Gavin DeGraw, but the show must go on… without you. After Gavin and Jaleel White faced each other in the show's very first Dance Duel as the bottom two competitors, the judges decided to send the singer home packing. Not entirely surprising, but still sad nonetheless. We'll miss you, Gavin!
Earlier: Last night's steamy round of performances on Dancing With the Stars left both the judges and viewers assured that this group of stars is up for a Latin challenge. But now that we've reached the halfway point of the competition it's getting easier to see who's most worthy of earning that coveted Mirror Ball trophy. Katherine Jenkins and William Levy are back at the top of the leader board where they rightfully belong, but given last week's shocking elimination, there's really no telling which two couples will face the dreaded hot seat.
But fear not DWTS fans, there's a much better chance of a more deserving person heading home come tonight's results show mostly because the fate of each star doesn't solely rest in America's hands. The couples that end up in the bottom two tonight will perform a dancing duel in front of the judges, and it will be they who decides which contestant should be sent packing.
However, that doesn't mean our favorites are entirely safe. Roshon Fegan and Sherri Shepherd wound up facing elimination last week even though their performances and scores outshone their competitors. The judges could still end up making a very tough decision they really don't want to have to make.
Gavin DeGraw's mediocre routine lacked a little passion and a lot of steps, making him receive the lowest score of the night. Will the singing star be able to charm his way out of yet another sticky situation? Surely his luck is running out. Gladys Knight has such a commanding stage presence, but her dance moves could still use quite a bit of work. Will her fan base save her once again from hanging up her dancing shoes? Votes haven't come that easy to Roshon, who's unfairly ended up in the bottom two twice now — will he share the same fate once again or will new couples face off in the final showdown? Given the many twist and turns that have already happened on this show, that possibility seems quite possible — but I'm hoping it comes down between Gavin and Gladys.
Who do you think stands the biggest risk of elimination? Is anyone safe on a season like this? Are you upset the judges will have a say in the matter this week? Sound off on your predictions in the comments below and check back here later tonight to find out which couple ends up being shown the door.
Dancing With the Stars' result show airs Tuesday nights at 9 PM (ET/PT) on ABC.
More:
'DWTS' Recap: The Top 9 Couples Make a Steamy Comeback
'DWTS' Rankings: The Top 9 Couples Sizzle For Latin Night
'DWTS' Injuries Rank Amongst TV's Scariest