'DWTS' Star Maksim Chermkovskiy: Scared of Gladys Knight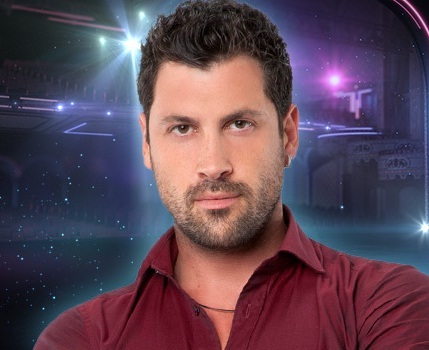 Maybe it's the celebrities that really rope viewers into Dancing with the Stars, but the program wouldn't exist without the professional dancers. Hollywood.com spoke to Maksim Chermkovskiy about his experiences on the show, including his reaction to a particularly surprising celeb dancer, his rivalry with his brother, and the one dance he's afraid to do. 
Maksim discussed the biggest surprise of Season 14:
Gladys Knight
. Upon learning that iconic singer Knight, 67, would be joining the show, Maksim was skeptical that she would be able to perform, considering her age. "We all looked at Gladys Knight and like, 'Oh my God, she's a legend. She won't move that well.' I was talking to someone in production like, 'Is she going to be okay? This is a lot of work.' Bam—she whips out a cha-cha. I was like, 'What the? This is bulls**t. Come on, man.'"
It's always fun to see siblings face off against one another in competitions—so much so that the professional world of sports is marked by iconic sibling rivalries. Tennis has the Williams sisters. Football has the Manning brothers. And dancing, the greatest sport of all, has the Chermkovskiys: Maksim and his younger brother, Val.
The brothers, who are professional dance partners to Melissa Gilbert (Maksim) and Sherri Shepherd (Val), are forced to face off against one another on ABC's hit series. However, the competition hardly puts a strain on their relationship.
Hollywood.com spoke to Maksim, 32, about his stint on the show, and his relationship with brother/competitor Val, 26. "I'm very proud of Val's accomplishments. I think as any teacher out there … students supposed to surpass the teacher. Having taught Val since he was eight years old, I'm very happy to say that I think he's better. I've always said it. There's no competition between us."
It might be the six-year age difference between the siblings that keeps things civil. "We never danced together. I was always in the older category. We definitely cheered each other on. In entertainment, Val just got here and he has a lot to grow. He's an incredibly talented person as far as [picking] everything up, so it won't take long. That's the beauty about the Chermkovskiys. If one wins, everybody wins. We don't compete against each other. We compete with each other, but whoever wins, the other is happy for."
Maksim went on to discuss how he and Val will have to rely heavily on the success of their partners to win the competition this year. "It's not just about my brother and I. This is without a doubt the hardest season as far as level. It's a challenge, and with every challenge you have to find a way to overcome it. I think both Val and I lucked out with our partners. Val's got somebody he's really enjoying spending time with, and so do I. I certainly have the experience of being on the show. But Val is a tremendously talented person and amazing teacher and dancer."
As much fun as Dancing with the Stars, might seem, it's actually a good deal of hard work. Maksim described the rigorous process of learning new steps for the show. "We are doing the quick step right now. It's very technical. You have to keep your frame. It's very fast. It's hopping, running around. All of that requires a lot of energy. You have the energy level aspect and the frame aspect. Keeping the frame is so awkward and uncomfortable, and terrible for your back. All these things put together doesn't make for a very exciting dance."
Viewers will be seeing some more interesting steps on episodes yet to come. According to Maksim, the one to really be nervous about is the Jive. "Next week, I think there's a high chance we get the Jive. It's a cardio killer. Yeah it's fun to sit and look at it, but if you get up and do it, you feel like you're about to lose a kidney. It's really difficult. I think getting those two out of the way will be great."
Maksim is excited about a few dance prospects, however. He is in the mentality that he and partner Gilbert will excel if given a tango. "If we do get a tango, I think that our size difference [is] our advantage. Hopefully we get to that point and we are able to put on a great routine."
All in all, Maksim expressed a great deal of respect for the show and for his fellow competitors. "There's not a person on this cast who can't do it. I think it's going to come down to fan base and come down to popular appeal: people's stories, the way they handle things. It's going to come down to the votes. Judges became completely obsolete. We got a 20 and we're tied for the last place. Any other season a 20 would be a blessing on the first show."
Dancing with the Stars airs Mondays at 8 p.m. ET/PT and Tuesdays at 9 p.m. ET/PT on ABC.