'DWTS': The Results Are In — Find Out Who Got The Boot!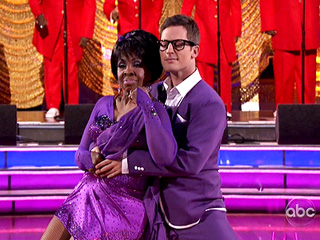 Update: Gladys Knight may be the Empress of Soul, but she's no longer the Empress of the dance floor. After Gladys and Roshon Fegan faced off in the show's second Dance Duel, the judges decided to say goodbye to the music legend. She's a sad contestant to lose, but it seems tonight just wasn't her Knight. We'll miss you, Gladys!
Earlier: April 23's Motown performances proved that these Dancing With the Stars contestants have what it takes to put the fun in funky town. All eight couples managed to hit the dance floor with gusto, but for one person in particular it became a game-changing experience.
Jaleel White found himself in the bottom two during last week's elimination round, but he was able to Cha-Cha-Cha his way up to the top of the leaderboard last night. Will his praised performance be enough to save him from the hot seat this week or was he still unable to charm his way into America's hearts?
Roshon Fegan and Gladys Knight received the two lowest scores of the evening, making them both potential prospects for being homeward bound. And while Roshon is by far a better dancer, Gladys has got the star power. Deep down we know she's the one who should go home, but as this show has proven several times before, that's not always the way these things work out. These results will prove just how much of a popularity contest this season really is.
Your move, America. What's it going to be? You know how the judges have ranked them — now it's your turn. Hedge your bets in the comments below and check back here later tonight to find out who got the ax.
More:
DWTS Recap: The Judges Get Technical
DWTS Rankings: The Top Eight Get Down To the Motown Sound