'DWTS' Top 10 Recap: The Only Direction To Go Was Down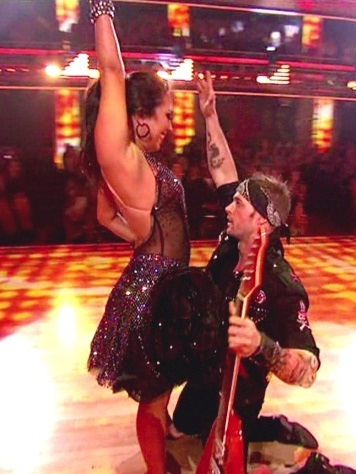 I'm not going to lie, I was pretty excited for Rock Week on Dancing With the Stars. With a group that's shown such consistent talent throughout the competition thus far, it was sure to be a memorable night. And it was — but for all the wrong reasons. Couples who usually shine found themselves with lackluster scores, and the group as a whole suffered pretty severely in the judges' marks, at least compared to last week's.
And I get it. We're reaching that certain point in the competition where technicality is going to start counting more and more each week. Judges want to make sure contestants aren't just getting by on votes alone — they want to see them actually improve as professional dancers. And with such high standards and scores established,the only direction to go is down. But the scoring was a little too harsh for my taste. Sure, the dances lacked a little of the grace and fluidity of last week, but that's not what rock and roll is all about. It's about passion and letting loose, which is exactly what this group did.
The New Leaderboard Toppers
Donald Driver danced a shirtless paso doble, which earned him the highest score of the night with a 27 out of 30. Football players in general usually excel at this dance since it's all about be tough, masculine, and muscly — three things that Driver definitely brings to the table. And while I definitely thought it was an impressive performance, the judges seemed abnormally psyched about it, even over other routines deserving of higher praise. Perhaps it's the shirtlessness (take note, William Levy).
Even with stress fractures on her foot, Maria Menounos powered through an incredible tango. You couldn't even tell anything was wrong with her and her chemistry with her partner Derek Hough is absolutely electric. Her lines were perfect; she had great control and posture. The judges were pleased and could only imagine what she'd be like with two good feet (hopefully she'll be around long enough to show us).
Roshon Fegan performed a beautiful viennese waltz, which seriously looked like something straight out of a Disney movie. The flowing movements and graceful steps made it look like he was gliding across the dance floor. But it seemed seriously out of place in a week that's supposed to be dedicated to rock and roll. And while he certainly deserved a decent score, it seemed almost unfair since the dance seemed so out of sync with the theme. However, this fact didn't seem to bother the judges and Carrie Ann even called him the best dancer out of all the men. But will the votes reflect that statement?
The Under-Appreciated
Katherine Jenkins got in touch with her "Welsh Warrior" by dancing a fierce and aggressive paso doble. You wouldn't suspect this classically trained singer to have a heavy metal side, but she proved she could rock out with the best of them. And while the judges said it lacked some precision, I thought it contained all the passion necessary to make a great performance well worthy of Rock Week. I don't care what the judges say, this girl still deserves to be at the top of the leaderboard.
Melissa Gilbert hit the dance floor with gusto, dancing an intense paso doble. This is one contestant who's really starting to come out of her shell. Before you could always tell that she was nervous about messing up, but last night she was absolutely brimming with confidence. Her moves were sharp and crisp, and she literally attacked the dance with an overwhelming amount of passion. Bruno and Len weren't as impressed with it, but I agree with Carrie Ann in that this was her best dance by far. Hopefully her recent injury won't prevent her from coming back and strutting her stuff once again in weeks to come.
Between a Rock and a Hard Place
William Levy received one of the biggest score drops of the night after he danced a pretty weak Jive. He lost timing at several points throughout the dance and messed a big move right in the middle of the song. Len even called him out on it and said that he has to nail the routines or his performance will suffer. Levy is juggling rehearsals around his hectic work schedule, and it's significantly pulled his focus.
Jaleel White performed the tango this week and while it was still a great performance in general, it definitely lacked in the confidence department. Normally, his moves are sure and precise, but he seemed a little hesitant in his steps. But given that no one's quite ready to see Urkel leave the competition anytime soon, I'm sure he'll be able to scrape enough votes to get by to the next round.
Sherri Shepherd's tango lacked the usual sparkle and passion she normally takes onto the dance floor, and the judges were less than impressed. This was her first week having to commute between New York and LA for her co-hosting gig on The View, and like Levy, her performance suffered because of it. But this girl's brings so much energy and humor to the show, I can't imagine this will send her to her swan song.
Rock Week did not serve Gavin DeGraw too well and he delivered an extremely stiff tango. His posture was perplexing and his movements appeared more robotic than anything else. You could tell the singer definitely wasn't as comfortable this week as he was last week, which means he'll probably face the hot seat once again during April 10's elimination round. Can the votes save him for the third week in a row?
And finally, Gladys Knight performed a rather hesitant tango, which left her with the lowest scores of the night. You could tell she was not in the moment and was constantly thinking about her next move, which made the performance a little stilted. Music legend or not, she's definitely the weakest link of the group and will most likely find herself once again in the bottom three. Granted, "Bohemian Rhapsody" is an extremely hard song to dance to, but the performance lacked impact and her score significantly suffered because of it.
Where you surprised with the change up in the rankings? Who do you think will end up in the bottom three during tonight's results show?