E! Cooks Up a New Reality Show for 'Blue Bloods' star Jennifer Esposito — NEW DETAILS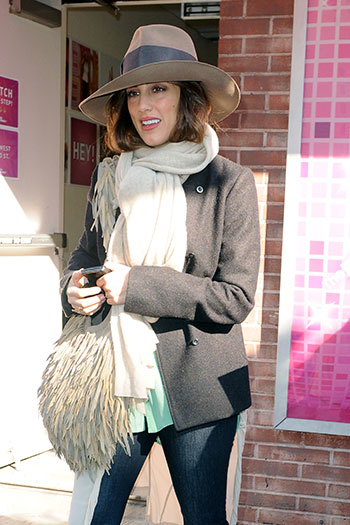 From fighting crime to fine cuisine? Former TV cop Jennifer Esposito is prepping for her next television adventure, and it's a departure from her previous work.
Esposito has signed on to take part in a new E! reality show debuting in 2013, Hollywood.com has confirmed. The upcoming project will highlight the world-renowned food scene in New York City. But if you're expecting a cooking show, think again — the in-the-works E! original will showcase various restaurants and cooking techniques that can only be found in the city that never sleeps. Esposito is set to make appearances throughout the season in some capacity.
Since being diagnosed in 2009 with celiac disease, a digestive disease that damages the small intestines and interferes with nutrient absorption, Esposito has embraced the limited menu that was thrust upon her and has developed a passion for gluten-free cooking. Esposito has started a foundation called Jennifer's Way that is dedicated to "the advancement of awareness, research and education of Celiac disease," and she regularly blogs new and inventive recipes that are not only healthy, but tasty too.
However, even a gluten-free lifestyle cannot always combat the strain that Celiac places on the body. While working on Blue Bloods, the actress' doctors advised her to lighten her on-set workload, but instead CBS chose to put Esposito on medical leave from the NYC cop drama. Esposito called the network's decision as "shameful behavior", and because CBS chose to keep her under contract, she is unable to pursue any other job on a network TV show. She is free to take part in a stage, film, or cable show as long as the time slot does not interfere with Blue Blood's airtime.
So as long as E! avoids targeting the NYC reality show for Fridays at 10 PM, they've got themselves a new leading lady.
Follow Leanne on Twitter @LeanneAguilera
[Photo Credit: Elder Ordonez/INFphoto]
MORE:
Jennifer Esposito on 'Blue Bloods' Leave, Calls CBS 'Shameful'
Jennifer Esposito takes aim at Blue Bloods bosses over leave of absence
TV Tidbits: CBS Nabs Michael Madsen, Ken Leung and Sarah Jones
You Might Also Like:

Jake Harper to Disappear on 'Two and a Half Men'? 6 TV Kids Who Vanished