'Eastbound & Down' Bringing Back Matthew McConaughey, Will Ferrell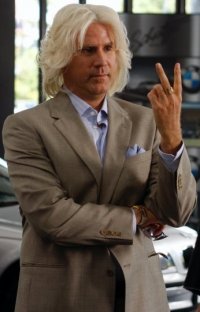 I guess becoming CEO of K-Swiss has its perks. Like being able to afford Matthew MacConaughey and Will Ferrell on Eastbound & Down again. Actually, Ferrell probably comes pretty cheap considering he's an executive producer on the show but I doubt that matters much when Jon "Bones" Jones runs your HR department. And yes, I realize that I'm mixing up the actual show Eastbound and Down and Kenny Powers' endorsement deal. Whatever, Kenny Powers wouldn't care as long as he's getting paid, son!
Anyway, McConaughey returns as the Texas scout that sent Powers off to Myrtle Beach. McConaughey rocked the role before; that will be a welcome sight. As for Ferrell? Not so much. Now, I like Ashley Schaeffer, but only in small doses. I would say he teetered on the verge of being annoying, but he was actually full-on obnoxious. Ferrell's a genius (most of the time), I just hope he doesn't try to overshadow the true star of the series: Katy Mixon's boobs.
Source: Hollywood Reporter